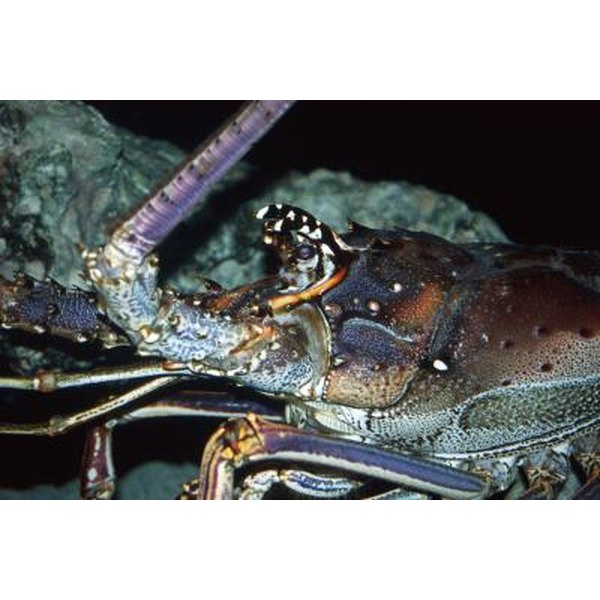 Spiny lobsters are most commonly found in the shallow seas surrounding the Caribbean. They are typically caught with traps, although individuals in pursuit of a home meal may simply dive for them instead. Building a trap is easy, but you'll want to doublecheck with all local and maritime governing bodies to ensure that you are operating within the parameters of the law when you utilize a homemade trap.
Step 1
Call your local government to get a detailed listing of regulations and ordinances regarding spiny lobster traps. Nearly every state and local government has regulations regarding the use of implements for catching, but they vary from state to state. Being well informed about the laws in your area can keep you from heavy fines or penalties later.
Step 2
Weld your cage panels together, using the 3 foot by 3 foot panels for the top and bottom and the 2 foot by 3 foot panels for the side walls.
Step 3
Mount the stainless steel brackets at each of the eight corners on the cage. You may want to consider welding this into place for added durability, but nuts and bolts will do so long as they are stainless steel.
Step 4
Cut two holes on opposite sides of the cage with the hacksaw. They need to be 12 inches wide, 8 inches tall, and the bottom of each hole should be 3 inches up from the base of the cage.
Step 5
Build your cage entry device panels. Take seven of your 9 inch long rods and spread them out equally over 12 inches. Take two 12 inch rods and place at the top and the bottom, then weld them into place to create the bottom panel of the cage entry device. Repeat this step using the other seven 9 inch long rods and two more 12 inch rods for the other cage hole.
Step 6
Mount the bottom panel by welding one end to the bottom of the hole you cut out in the cage. Use the 3 inch long rods on the other end to support the bottom panel so that it is parallel to the cage floor.
Step 7
Assemble the top panel for the cage entry device in the same manner, laying out seven 12 inch long rods over 12 inches, and welding the two remaining 12 inch rods on either end to hold the panel together. Instead of welding this panel to the top of the hole, you're going to attach it with your hinge. Weld the hinge to the top of the cage opening, and then weld the panel to the other side of the hinge. The other end of the panel will rest on the bottom panel, creating a V. Lobsters will pursue bait that is placed in the cage, and the hinge will open as they push on it to get inside. Once inside, though, the shape of the V is such that they cannot get out.