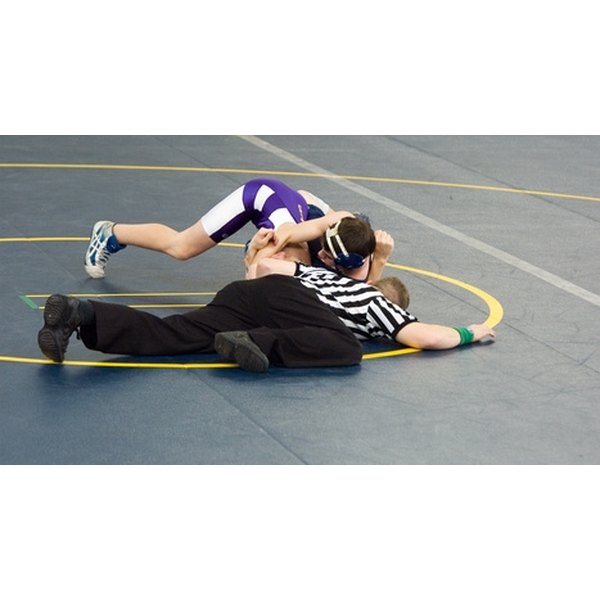 A wrestling singlet is a single-piece, tight-fitting garment worn by wrestlers during matches. Wrestling singlets are usually made out of a spandex, Lycra or nylon blend to get the tight fit that is necessary to avoiding clothing being grabbed during a match and allow referees to clearly see the wrestlers' bodies. Wrestling singlets are often very colorful, and usually feature the wrestler's number, team colors, school or sponsor. You can customize a wrestling singlet at any number of online singlet retailers.
Go to an online wrestling singlet retailer, such as Matman, My Wrestling Room, Brute or Flexapparel Inc. Navigate to their "Custom Wrestling Singlet" (or similar) section.
Browse the various styles of wrestling singlets, and choose an appropriate one. Most wrestling singlets have a standard design with two shoulder straps and shorts reaching to mid-thigh, but you can choose various body design styles.
Select the cut of your singlet. Singlets can be cut long, with a large scooping neck hole, or high, with a more standard neckline. There are also options for women's cut singlets that are designed to accommodate a larger chest and different hip dimensions.
Select the colors for your singlet. Most retailers allow you to choose colors for the body, including various colors for stripes and designs on the body, and a color for the trim.
Provide your team name, number or any other text you'd like to see on your singlet, and select a font if given the option. Specify desired placement of any text.
Choose a logo from the options that may be provided by the company, or upload a picture of the logo you'd like to see on your singlet. Specify placement and size.
Place your order for your custom wrestling singlet, being sure to specify size and number of singlets. You may need to get in direct contact with the company to complete your order, depending on the level of customization.