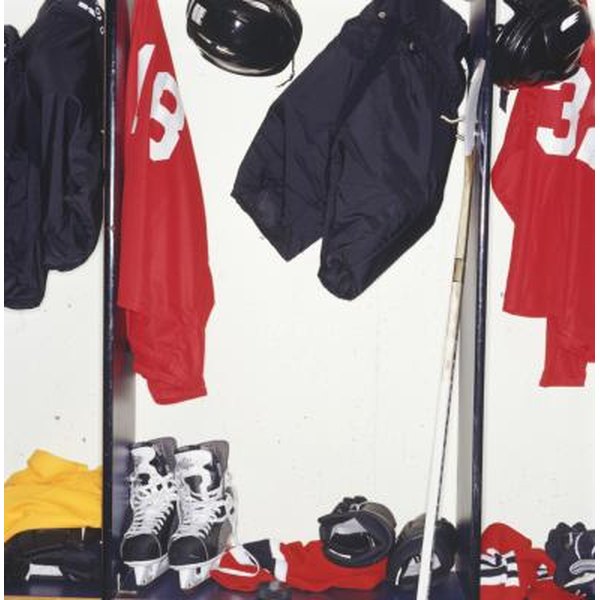 The fans are the only ones that are cold during a hockey game. Game action is so intense that a player's shift on the ice should only last 45 seconds. All that exertion creates heat that is trapped by layers of hockey gear. And where there's heat, there's sweat. Build this PVC rack to dry out that stinky gear between games.
Step 1
Measure and mark one of the 8-foot pieces of 1-inch PVC pipe using a tape measure and marker. Mark seven, 7-inch pieces and two, 18-inch sections. Cut straight through the marks using a hacksaw.
Step 2
Cut one, 24-inch section; two, 12-inch sections; and four, 9-inch pieces from the other 8-foot piece of 1-inch PVC pipe. Use a tape measure and marker to measure and mark the cut lines.
Step 3
Assemble the top drying fork. Insert the two, 12-inch pieces into parallel ports on the four-way connector. Attach 90-degree elbow connectors to the ends of the 12-inch pieces and then connect three, 7-inch pieces to the crossbar assembly to make what looks like a three-pronged fork.
Step 4
Create the spine of the drying rack. Put the 24-inch piece into the open port of the four-way connector. Insert a three-way connector onto the bottom of the 24-inch spine piece.
Step 5
Make the hips of the rack. Insert two, 7-inch pieces into the open ports of the three-way connector at the bottom of the spine then insert two more three-way connectors onto the ends of the 7-inch pieces. Place the last two, 7-inch pieces of PVC into the freshly installed three-way connectors and point them up toward the top-end fork assembly.
Step 6
Insert two, 18-inch pieces into the open spots on the three-way connectors to create the legs of the rack. Give the rack feet by pushing the vertical ports of the last two, three-way connectors onto the 18-inch PVC legs. Connect all four, 9-inch PVC pieces to the open parallel ports on the feet's three-way connectors.
Step 7
Screw a potato chip bag clip into the middle of the assembly's three-way hip joints with a screw and a screwdriver. Place your used gear on the rack as if it were a mannequin's body -- helmet on the middle piece of the top fork, gloves on the outer pieces and chest gear on the spine of the assembly. The two, 7-inch pieces popping up from the hips are for your upside-down skates.