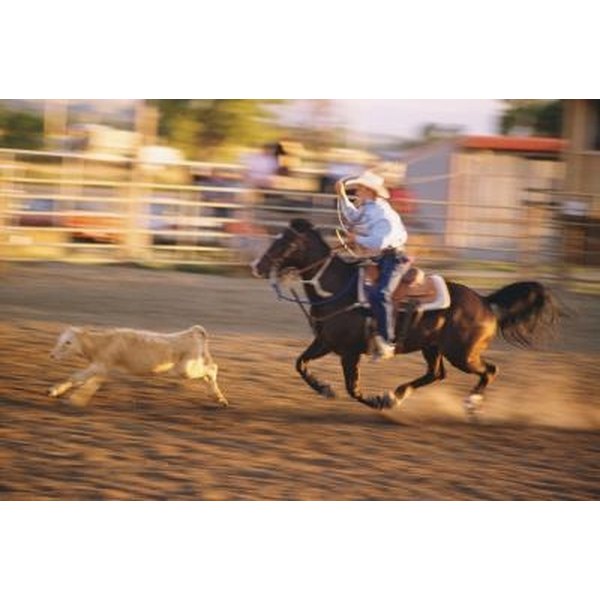 Dubbed America's original extreme sport, rodeos are a combination of events categorized as either "timed" or "rough stock." While rough stock events, such as bull riding, are judged; calf roping --- commonly referred to as tie-down roping --- and other events are strictly a race against the clock. Calf roping is timed using a barrier that allows the calf a predetermined head start. A barrier is a rope across the front of the box rigged to a breakaway collar on the calf. When the calf has gone a certain distance, the barrier is tripped and the cowboy can begin his pursuit of the calf.
Braid a section of rope not more than 10 inches long with the metal ring at one end and a loop on the other.
Create the breakaway collar by braiding a rope with loops at each end. Make the rope about 2 feet long. Tie the loops together using cotton string so that when the calf is released from the chute, he will easily break the two ends of the collar.
Attach the collar to the neck rope. Measure the neck rope according to the rodeo's official rules.
Tie the rope to a pigtail using cotton string. Pull it across the front of the box and through a pulley at the corner. Tie the end of the rope to the bungee cord and pull tightly. Secure the cord to the side of the roping box, ensuring that the barrier is 32 to 36 inches high.
Attach a flag to the center of the barrier when stretched across the front of the box. Time keepers watch for the movement of the flag to begin the official time.
Test the barrier to ensure it is working properly. With the barrier pinned at the corner, stand clear and pull the neck rope to release. The barrier should pull clear of the mouth of the box quickly. If it does not, tighten the bungee cord to create more tension.