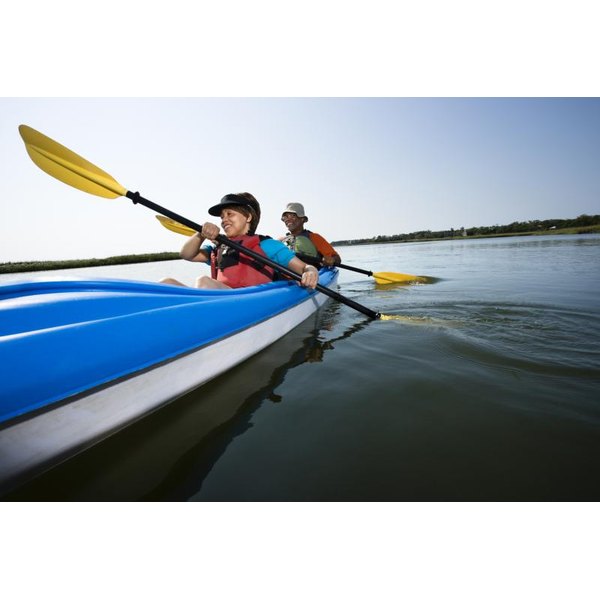 Kayaking provides an opportunity to enjoy nature while engaging in a sport that builds fitness. You'll find it easy to get within camera range of wildlife and can explore areas inaccessible by more cumbersome boats. Some types of kayaks require you to develop skills such as rolls and wet exits in the safety of a pool before you ever put your boat on a natural body of water, but others let you get out on the water with no special training.
Blow It Up
Inflatable kayaks are suitable for the novice paddler and offer an experience that combines kayaking and whitewater rafting. If you happen to bang into rocks paddling downriver, your kayak bounces softly away. The open deck means you simply roll off your kayak should you turn over. Far from being inflatable pool toys, IKs meant for downriver use durable PVC construction that stand up to abrasions and scuffs, and are easily repaired if punctured. Some models are suitable for rapids rated up to Class IV on the International Scale of River Difficulty, providing you use thigh straps to keep you from bouncing out of the boat. You can also take your IK with you to the ocean or lake, and deflate it to stash in a duffel bag when you're done.
Sturdy and Stable
Sit-on-top kayaks have a hard, outer shell and wide body that provides optimal stability for paddling on lakes or along the coast. The boats are self-bailing, so you don't have to worry about a wave swamping your boat. You can purchase sit-on-tops designed for fishing, with mounted holders for fishing poles, compartments for holding bait and tackle, and cargo areas for other gear. Sit-on-tops are ideal for photography, snorkeling or swimming, as the wide, stable platforms allow you to get on and off the boat easily.
Have a Sit-In
Although the learning curve is greater than with sit-on-tops or inflatables, sit-in kayaks can extend your paddling season by keeping your lower body dry and out of the elements. You can also keep gear out of the weather stored safely inside the hull. Practice in a pool to ensure you have rolls, turns and other maneuvers down before heading out to open water. Recreational flat-water kayaks are a good way to start, as a smaller hull and large cockpit make them easier to steer and perform a wet exit. Touring kayaks track in a straight line, making them ideal for gliding ahead for a maximum distance with each stroke. Sea kayaks sit low in the water and have smaller openings to resist sea spray and the effect of wind. Wide, flat-bottomed kayaks provide stability for beginning paddlers, but are unsuitable for whitewater.
Sizing It Up
In addition to having a kayak suited to the paddling conditions, you'll want to make sure you and your kayak are the right size for each other. You'll want enough room in the cockpit to stretch and move around, but snug enough that you can steer it by pivoting your hips. No matter what type of kayak you get, foot stops help you brace yourself while turning and keep from slumping. Sit-on-tops, inflatables and sit-inside kayaks are also available in tandem models that you can paddle with a partner. Purchase the kayak together so you can make sure that cockpit, leg room, back rests and foot stops are adequately sized for both of you.