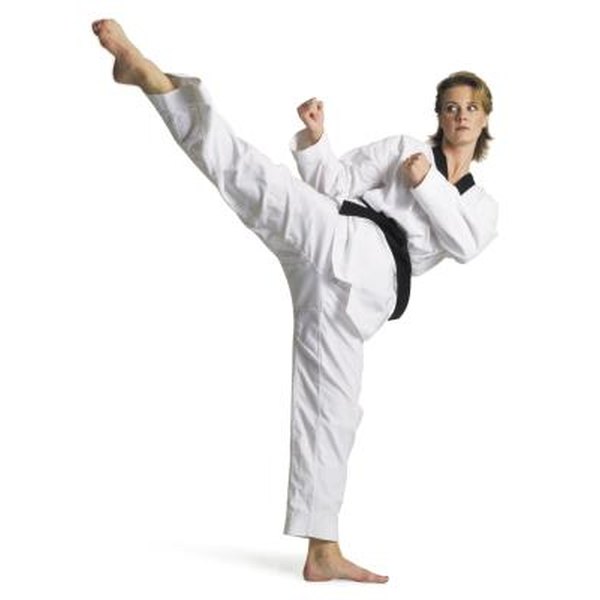 Karate and Pilates seem like a strange pairing. One's an ancient martial art, featured in countless B movies, while the other is a sophisticated form of exercise geared toward dancers and gymnasts. And yet, like yin and yang, karate and Pilates have complementary aspects that make for a synergistic relationship. Karate Pilates was created by 25-year martial arts veteran Amelia Sheftall, a fourth-degree karate black belt and certified Pilates instructor who runs her Karate Pilates studio in New York.
History
Karate Pilates uses Pilates moves to enhance karate study; both disciplines combine physical and mental aspects, and stress the importance of focus and breathing. Karate is a Japanese martial art started about 1,400 years ago when Daruma, the founder of Zen Buddhism in Western India, combined kung fu fighting styles with philosophical principles. Pilates is an exercise system founded by former self-defense instructor Joseph Pilates in the early 20th century. It's meant to build flexibility and strengthen muscles, particularly the core, through the use of controlled movements and often specialized equipment.
Features
Karate Pilates is an exercise program geared to martial artists, but employing the Pilates principles of strength, flexibility, proper alignment, centering, precision, control, breathing and flowing motion. These principles train the muscles to relax and the joints to open. The focus is on strengthening the core, including the abs, which is known as the "powerhouse" in Pilates and the "tanden" in karate and other Japanese martial arts. The exercises included in the program target common problem areas in martial arts practitioners.
Benefits
Opening the joints and relaxing the muscles improves flexibility, ease of movement and range of motion. Improving core strength makes stances and kicks more comfortable and efficient, while reducing back and shoulder pain and strain typical in martial artists. All of this reduces the chance of injury and increases the longevity of your martial arts career.
Availability
Karate Pilates is basically an introductory Pilates mat workout, designed for both men and women, that includes options for beginning, intermediate and advanced students. You can order a Karate Pilates DVD, or take group classes and private sessions with Amelia at her studio. You can also organize a seminar for your group, school or facility, which includes a lecture, one-hour group class and Q&A session.