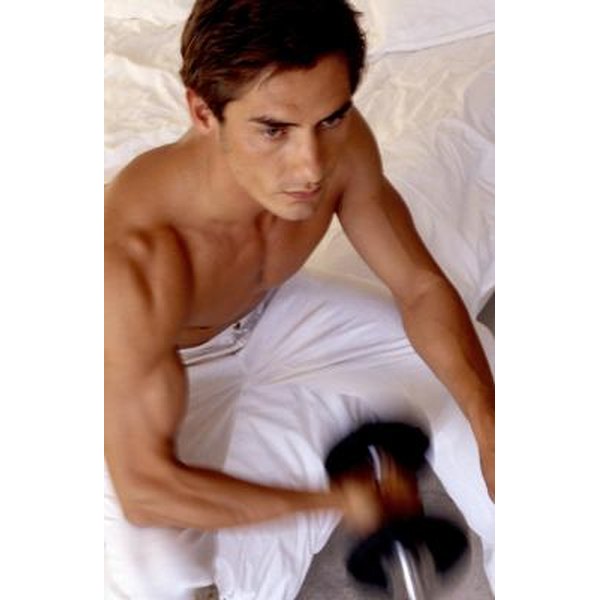 Isometric exercises are a type of strength training that differ from typical weight lifting. They apply equal amounts of force in two directions, such that they negate each other and prevent movement from occurring. As such, isometrics are particularly helpful to people that suffer from arthritis or physical injury that makes muscle and joint movement painful. However, because isometrics have been known to increase blood pressure while they are being performed, they are not typically recommended for people that suffer from hypertension or heart problems.
Maintains Muscles
Isometric exercises are anaerobic, which means your muscles don't need increased oxygen production to perform them. The actual exercises take only a few seconds to execute. Muscles are typically tensed against a static surface, such as a wall or even opposing muscles. Because these exercises don't change muscle length during contractions, they are better at maintaining muscles rather than actually building them up. This makes isometrics ideal for physical rehabilitation, because the exercises help maintain muscle strength and range of motion.
Benefits
Isometric exercises target specific muscle groups and are done without movement. This makes them perfect if you are looking to work a specific area. Because they only take a few seconds to perform, you can go through several exercises to target several muscle groups that you'd like to maintain. The other advantage of isometrics is convenience. They don't require fancy gym equipment or gear. As such, you can do your isometrics routine anytime, anywhere.
Disadvantages
There are certain disadvantages to doing isometrics. Because your muscles and joints aren't moved during your isometric routine, you can only target specific muscle groups at any given time. So, you will need to do more exercises at different angles in order to target other muscle groups. Moreover, the angle at which you tense your muscles during an isometric contraction is the specific angle that is maintained. This means you need to do multiple angles and positions in order to target a range of muscle movements.
Reps and Duration
While classic strength training uses the number of sets and repetitions to prescribe volume, isometrics uses the duration of time it takes to hold a specific position instead. Typically, you will do fewer reps for longer durations and more reps for shorter durations. If you are using isometrics for general fitness, then you should typically do between 15 to 20 reps, holding each position for about 3 to 5 seconds. Assuming you do about three sessions per week, you should expect to see results in as little as 2 weeks.