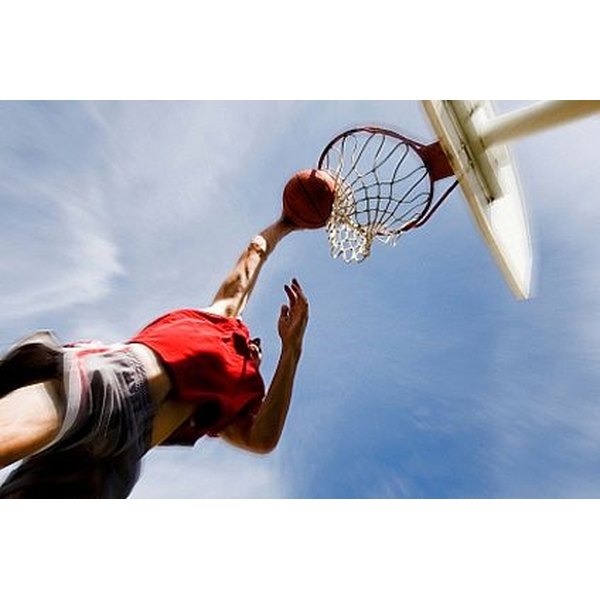 Nicknames are a key ingredient for any great basketball player. No one was ever afraid to play against Ervin Johnson, Daron Blaylock, Julius Erving or Glenn Rivers--but Magic, Mookie, Dr. J and Doc all managed to hang around The League for just a little while. Not to mention the perhaps more familiar Air Jordan, Sir Charles, Larry Legend, King James, CP3, The Answer, Vincanity and The Matrix. A great nickname goes a long way towards getting into the head of your opponent--after all, it's hard to be intimidated by a guy named Nate--but no one wants to face the The DomiNATEr. So here's how to find yourself a bona fide moniker that should make your opponents take notice.
Identify the strengths of your game. Are you a small guard? A big man? Do you shoot from downtown or crash the boards? Is it your raw talent or big hear that makes you great? The best nicknames come as a direct result of your skills. For example, "The Glove" Gary Payton was called so because of his stifling defense (cover you like a glove). "The Big Fundamental" Tim Duncan has always been known for, well, his fundamental skills. "Big Game James" Worthy was nicknamed for his clutch performances in key moments. Dwight Howard is often called "The Daily Double" due to his penchant for double-doubles. Or a personal fave, "Never Nervous" Pervis Ellison, known for his cool under pressure. Figure out what it is you do best and attach an applicable name.
Where are you from? Some of the game's best nicknames are a nod to the origins of the player. When Vince Carter played in Toronto he was affectionately known as "Air Canada." He often squared up against "The Dunkin' Dutchman" Rik Smits, "The Haitian Sensation" Samuel Dalembert, "The Great Wall of China" Yao Ming, and even "Captain Canada" Steve Nash. He also faced "The Admiral" David Robinson, given his nickname because he played his college hoops at Navy.
Still stuck? Let's go the more modern route and just play with your own name a little. Take your first initial and first syllable of your last name. You'll probably get something like "D-Wade" (Dwyane Wade), "T-Mac" (Tracy McGrady), "K-Mart" (Kenyon Martin) or "J-Kidd" (Jason Kidd). You can also just use your first initial and a cool ending--"K-Dog", "K-Smooth" or "K-Train" are all pretty generic and relatively safe on any playground.
Go Big or go Baby! Still looking? An old nickname standby is to find a player that you kind of resemble or a trait that you have, and just throw "Big" or "Baby" in front of it. Shaquille O'Neal is famous for calling himself the Big Something. Anything. Perhaps "Big Aristotle" is his most famous (although "The Diesel" may be the most common Shaq nickname). But there have been many Bigs along the way--"Big Country" Bryant Reeves, "Big Dog" Glenn Robinson, "Big Dipper" Wilt Chamberlain, "Big Ben" Wallace, "Big Smooth" Sam Perkins, "Big Ticket" Kevin Garnett and "The Big O" Oscar Robertson. Also, "Baby Jordan" Harold Miner or "Baby Shaq" Gary Trent are some famous Babies along with "Baby Gramps" Greg Oden. Or you could simply go the route of Celtic forward Glenn Davis and just use both--he's known lovingly as "Big Baby."
Get creative with your own name. Does your name have a familiar sound to it? Is it part of a famous title or phrase? Some of these players might inspire you, like Lakers forward "Cool Hand Luke" Walton, Becky "Hammontime" Hammon of the WNBA, "Captain Kirk" Hinrich, "Sam-I-Am" Cassell, "Medicine Man" Chris Quinn--and so on. Don't be afraid to think outside the box.
Now that you have your nickname picked out, let's say you went with "Bus Driver" (because you take everyone to school), it is very important to create the perception that someone else gave it to you. No one likes a self-styled nickname. So, either find a friend and convince them to start calling you that name in front of other people or relate an old story about yourself and casually use the nickname within the story. When your friends say, "Wait--who's Bus Driver?"--just claim that's what they used to call you back in the day.
Enjoy your new identity, "Bus Driver!"