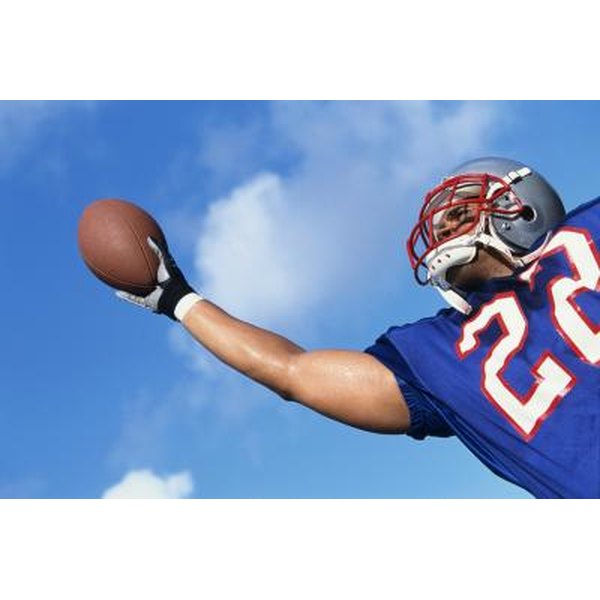 The recruiting process is easy for the very best college football prospects. They sift through their major college offers, pare down their wish list, select which schools to visit and finally make their choice. But the recruiting process is much different for most high school players hoping to play college football. It requires considerable athletic and academic preparation; and marketing efforts by them, their coaches and perhaps recruiting advisers as well.
Honestly Assess Your Ability
There are four levels of football competition in the National Collegiate Athletic Association, two levels in the National Association of Intercollegiate Athletics and opportunities at the junior college level as well. Aspiring college players should compare themselves to players getting collegiate offers from schools at the various competitive levels. This will help them understand how the recruiting process will likely play out and what sort of offers they should target.
Gain High School Exposure
The surest way to get recruited is to maximize your athletic development during high school and play well in games. College coaches begin developing their "follow" lists for each high school graduation class at least two years in advance. They seek input from high school coaches they trust, and pay attention to independent scouting services that grade the prospects on their size, speed, strength, explosiveness and athletic projection.
Make Your High School Coach Happy
In an essay published by SB Nation, offensive lineman Brendan Moore offered this advice after signing with the University of Maryland. "Your coach can be your biggest advocate in the recruiting process. ... Because high school coaches also want to put their best foot forward, and because they are also building or nurturing their own relationships with college recruiting coaches, be one of the players that your coach wants to promote."
Take Care of Academics
Coaches at top level college programs are reluctant to commit scholarships to players that may not become eligible or stay eligible. Learn the NCAA academic standards early in your high school career and adhere to them. Take the required core classes, earn a grade-point average and prepare to do well on entrance tests. Register with the NCAA Clearinghouse so your academic credentials can be validated.
Attend College Camps
At the highest levels of college football, players seldom get discovered at a summer instructional camp. But if a school has expressed interest in you, attending its camp allows you to measure yourself against other players the school may be considering. It can also give you a feel for the coaches, campus and facilities.
Make Game Video Available
College coaches need game video to aid their evaluation process. Tapes can be especially valuable to coaches at the lower competitive levels that lack the recruiting budgets and manpower to do exhaustive live scouting. Work with your high school coach to make sure game video is posted on YouTube and on various recruiting sites. If necessary, enlist recruiting services to assist this production process.
Present Clean Social Media Image
College coaches are active on Facebook, Twitter and other forms of social media. They use them to stay in contact with potential players -- and they monitor those outlets to sniff out character flaws. "If a kid posts something stupid on Facebook, it bothers you," Texas A&M tight ends coach Brian Polian told ESPN. "You have to ask yourself, at what point is this a kid being a kid or is this what we will have to deal with?"