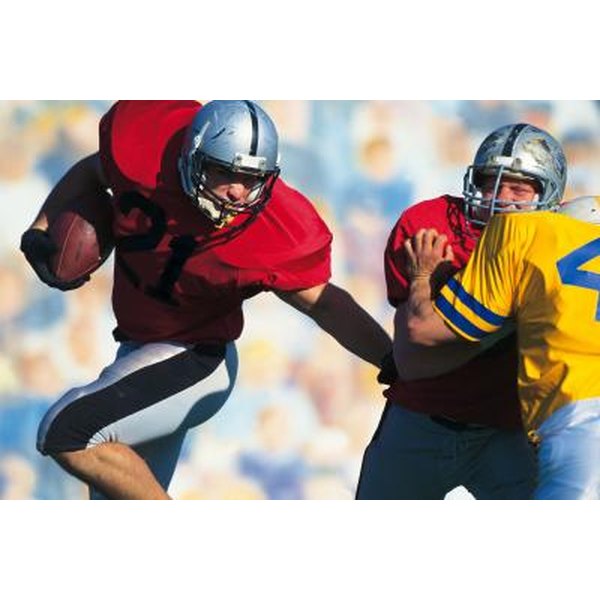 A chinstrap can be one of the most overlooked parts of a football player's equipment. When a helmet fits correctly and the chinstrap is attached the right way, the football player will be thinking about the game and his responsibilities and not about his protective equipment. However, if the chinstrap is too loose, his helmet can move around on his head. A chinstrap that is too tight can cause a slew of problems, including causing cuts around the facial area.
Step 1
Make sure your helmet fits correctly. You can't fit you chinstrap if your helmet doesn't fit the right way. A chinstrap will not undo the problems caused by a loose or tight helmet. If the helmet is too loose, the player will fee like his head is on the inside of a drum. Every time he takes a blow to his head, he will hear reverberations. A helmet that is too tight is quite uncomfortable and will distract a player from doing his job. The chinstrap will not help if it fits correctly but the helmet is uncomfortable.
Step 2
Buckle your chinstrap when you are trying on your helmet. Notice that one end of the chinstrap is bolted to the helmet and the other end buckles to the other side of the helmet near the jaw line. If the helmet adjusts tighter slightly as the chinstrap is buckled, it fits properly. This is what the football player should be looking at when checking the chinstrap.
Step 3
Check the chinstrap for slack when you buckle it. An ideal fit will not have extra space after it is buckled. The chinstrap makes sure the helmet fits securely to the head and provides maximum protection. If there is looseness, then the helmet will not sit on the head the way it was designed and it will shift around. Then it will not provide the designed protection.
Step 4
Make sure the chinstrap is not too tight. A chinstrap is made of molded plastic and it is quite hard. The player should be able to open his mouth, talk and breathe normally while wearing his helmet and chinstrap. If every face and chin movement is difficult and the chinstrap digs into the bottom of the face and chin area, it is too tight and could cause facial irritation.