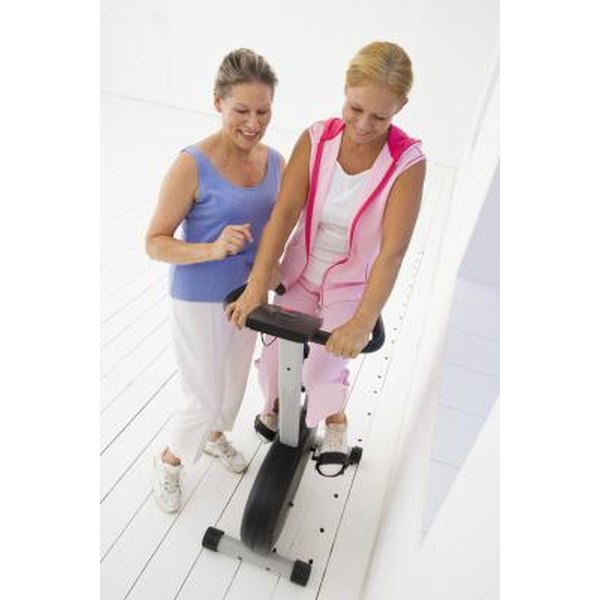 Spinning can be the perfect way to work up a sweat, build strength and endurance, burn lots of calories and get an endorphin high. Some people try spinning after sustaining sport or exercise-related injuries. Spinning can be done year-round and helps with calorie control. A spinning class is usually about 45 minutes to an hour and is conducted on specially developed indoor bicycles set to high energy music. An instructor will guide you through mountains, jumps, flat roads and steep hills. You will "spin" your way to fitness and health.
Step 1
Inquire about the different instructors at your gym or facility you choose to take the class. All instructors are not alike. Some are a little easier on you, some are a little tougher, some scream a lot, and others have gentle, soothing voices. For your first class, pick one in the middle. You want to have fun, too.
Step 2
Approach the instructor before the class. Tell the instructor that you are new to the class and describe your fitness level. The instructor may ask who is new.
Step 3
Have the instructor set you up on a bike. You need to have the seat as high as your hip bone and as far back as it is comfortable. Some people like to sit with the seat closer in. That is ok, too, but make sure you are not putting unnecessary pressure on your knees. A correctly seated spinner should not suffer any knee pain.
Step 4
Put your feet in the stirrups if you are wearing sneakers. Make sure it is securely fastened and your shoelaces are not hanging loose. If you become hooked on spinning, consider getting bike shoes. They clip into the bike and give you more ease and power. You can actually purchase shoes that are fashioned specifically for spinning.
Step 5
Understand the way the bike works. There is a circular control on the bike on the slope of it that you turn right or left to increase or decrease tension on the bike. You usually pull up to stop it completely or turn it all the way off. This is essential in any spinning class. You need to know how to stop.
Step 6
Familiarize yourself with the spinning positions. Two hands close together on the handlebar is first position. Widen your hands to inside of the handlebar for second position. Third position is with your hands on the tips of the handlebar. Your teacher will tell you when to utilize each position.
Step 7
Go at your own pace. The teacher might say increase the tension or go really fast. Do only what feels OK to you. Do not stand if you feel like you are going to pass out. Spinning is intense, and if you feel at all faint or dizzy, stop immediately. Otherwise, enjoy the ride.