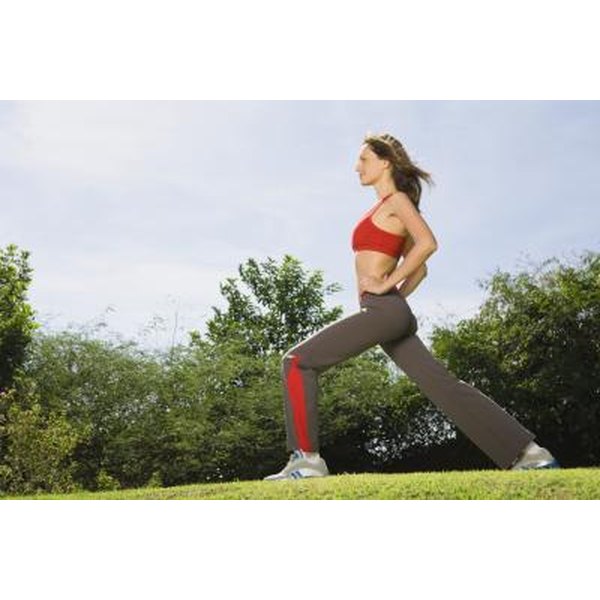 There is a way to get a bigger sexier butt without surgery. The butt consists of three primary muscles, all of which can be targeted by a series of selected exercises. Most of these exercises require no special equipment and can achieve very good results.
The Lunge
The best exercise to specifically work the butt area is the lunge. You can increase the overall effectiveness of this exercise with the use of weights. Strive to complete three sets of 20 to 25 reps per set. As you improve, slowly increase the number of reps per set.
Squats
The squat can be performed with or without the use of weights. Like the lunge, the squat is a good exercise for your butt but is also good for your thighs, calves and hamstrings.
Kneeling Kickback
The kneeling kickback is a very effective exercise because it works the gluteus maximus, the largest muscle in the butt. The kickback becomes more effective as you raise your leg higher and higher. In addition, holding your leg at the highest possible position for a count of three will also improve results.
Leg Presses
Place a set of barbells across your shoulders and perform a squat maneuver. Start with a small amount of weight and work up gradually. This is a highly effective exercise because the added resistance forces the muscles to change in order to complete the task. Work for three sets of 10 to 15 reps per set.
Standard Exercise
Normal day-to-day activities work the butt muscles. These include walking, biking and swimming. These exercises improve the muscle mass and tone your butt as well as provide a good cardiovascular workout as well. Work out for a minimum of 15 minutes. This will allow your heart rate to reach the desired level and provide the best results.