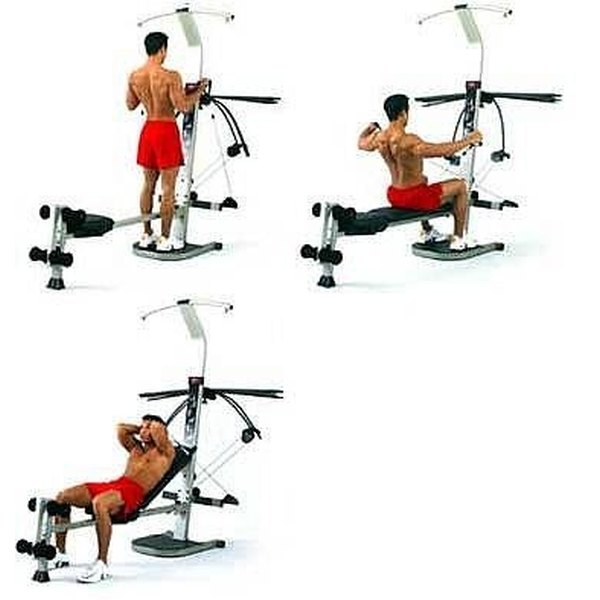 Some people find gym membership costs prohibitive or simply prefer the privacy and convenience of working out at home. So, many decide to invest in a home gym. Outfitting a basement or garage with health club style equipment would command a rather large price tag, so all-in-one "universal" types of exercise stations are popular. One such piece of equipment is the Crossbow Advantage from Weider.
Workouts
The design of the Weider Crossbow Advantage is based on rod resistance technology, much like the famed Bowflex machine. The Crossbow's rods are graded on a flexibility factor that corresponds to the amount of resistance a particular weight would have, so the 20 pound rod is like lifting a 20 dumbbell, negating the need for weight plates and bars that take up floor space. The amount of workouts available (65 according to Weider) on the Crossbow are varied and tackle every major muscle group.
Chest
The Crossbow features several stations that work the major muscle groups of the upper body like the back, chest, shoulders and arms. For the chest, both flat and incline bench presses can be performed to target the upper and middle portions of the pec muscles, simply elevate the bench to a 45 degree angle to do incline bench presses. Pec flies can be performed as well by bringing your arms together in an arc.
Back
The back can worked by doing lat pulldowns; reach up and grab the pulldown bar, have a seat, and pull the bar down to your chest to simulate doing pull-ups (pull-ups can performed as well on the overhead bar). The seat allows for a sliding motion, so seated rows are another option. Traditional biceps curls and triceps overhead presses can done by adjusting the cables to their lower setting, and seated shoulder presses also can done from this position.
Legs
The quads, hamstrings, and glutes can worked on with the Crossbow. The seat can be removed to allow for standing squats by holding the grips to your sides and squatting to a near seated position. The Crossbow also features a leg curl/extension attachment to work the quads on the tops of the legs, and lying on your stomach allows you to work your hamstrings.
A Note
The Weider Crossbow Advantage comes with 220 pounds of resistance weight. You can upgrade the equipment to 440 pounds by purchasing additional bars. The Crossbow is currently out of production, replaced by the Weider MAX, but the additional bars from the MAX should fit the Advantage. Contact the Weider company for more information.