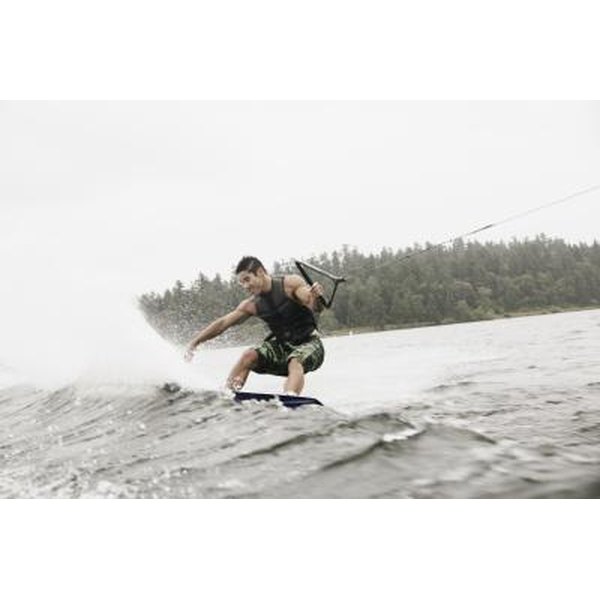 What you wear when you're wakeboarding should keep you warm and protected and allow you to move about freely. There are suggestions rather than strict guidelines about what to wear during wakeboarding, so it's OK if your choice of attire reflects your own personal style and preference. However, protective gear like a helmet and life vest should always be worn.
For Colder Conditions
When wakeboarding in colder temperatures, wearing a full or half wet suit will help keep your body warm. A full suit features long sleeves and runs the full length of your legs. A half suit comes halfway down your arms like a T-shirt, and halfway down your thighs like shorts. If you're a beginner or still getting comfortable staying on your feet, a wet suit is ideal because you'll likely be spending more time in the cool water. A wet suit fits tight against your body, which helps prevent water from squeezing inside between the suit and your skin. Find a suit that fits you right, as a baggy suit will allow water to get in and won't be as effective at keeping you warm.
For Warmer Conditions
If you're wakeboarding in warmer conditions, a pair of board shorts works well; shorts allow water to flow against your skin and can be tied securely to your waist. Plus, they're made of a material that dries quickly. Swim bottoms should be avoided, because they have a tendency to slide off or run up into crevices when you fall off the board. For a top, a form-fitting T-shirt or a heater shirt, which features the material and fitting of the top half of a wet suit, can be worn.
For Your Feet
On your feet, you'll wear wake bindings, which are are boots that attach to your board. You can wear thin neoprene waterproof socks under your boots to help prevent blisters, but riders typically slide their bare feet into the bindings. It's important that the boots fit just right, as if they're too tight they'll cause you to get tired and can cause more pain when you fall; and if they're too loose, you won't be able to balance or control the board effectively.
Protective Gear
A life vest, which serves as a flotation device and will give you buoyancy when you fall in the water, should always be worn over the top of your wet suit, tee or heater shirt. There are impact vests, which are life vests that feature more padding to help lessen the degree of impact when you fall. Place a wakeboarding helmet, which looks like a skateboarding helmet but is specifically designed for wakeboarding, on your head for protection during falls. Wakeboard helmets, as distinguished from skateboarding or snowboarding helmets, are made with a foam that keeps water from running down into your eyes when you're riding.