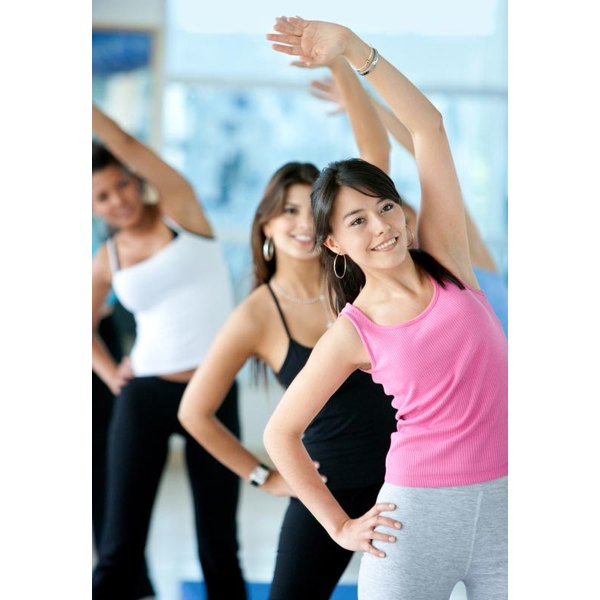 Step into any women's aerobics class on the planet and you'll find a great blend of heart-thumping exercise, basic dance moves and healthy social interaction. As a newbie, do what you can to ensure your first class is a positive experience. Get clearance from your doctor, speak to the instructor about any injuries you've had and dress appropriately. Wearing the right clothes can make your workout safer, more effective and more enjoyable.
Smart Fit
When you dress for class, consider how each piece of clothing fits and feels. Start with a sports bra that fits properly and offers full coverage and excellent support. Next, choose a top that allows for maximum movement of your torso and arms. That doesn't mean a super-snug tank top is best; it's fine to wear a T-shirt, as long as it's somewhat fitted so your instructor can check your spinal alignment and form. Leggings, yoga pants or shorts with elasticized waistbands are all good options for your bottom half, as long as they're comfortable, let you move your legs freely and won't chafe. If you wear pants with a long and wide leg, make sure they're not a tripping hazard. When the weather turns cold, come to class in layers -- sweats over a T-shirt over shorts -- that you can peel off before starting class.
Fabric Wise
Expect your body temperature to rise during your workout. Opt for fabrics that help your body maintain a more even temperature by allowing heat and sweat to dissipate. If you're buying fitness-specific clothing, look for items that feature "sweat-wicking" fabrics designed to absorb perspiration and draw it away from the skin. Lightweight, all-cotton T-shirts are OK, but they tend to stay wet. Steer clear of clothing and accessories -- such as plastic pants and belts -- that up your risk of overheating and dehydration by holding the heat in.
Fancy Feet
Wear shoes that fit well and provide the support, cushioning and flexibility you need. Aerobics classes feature a lot of side-to-side movement, so find a shoe that offers excellent lateral support. If you're doing high-impact aerobics, you'll need a lot of cushioning to absorb the excess stress and protect the tiny bones of your feet. There should be ample room in the toe box -- the area that surrounds your forefoot -- so your toes and nails won't get bruised. Opt for a high-top shoe if you've ever had problems with your ankles. The American Academy of Podiatric Sports Medicine recommends getting fitted by a professional, ideally in the afternoon when the feet swell slightly. When you go for your fitting, bring along the socks you plan to wear in class.
Yay and Nay
Respect your fellow fitness buffs by wearing deodorant, but stay away from strong-smelling perfumes, lotions and hair products that some women find offensive. Ditch your cellphone and spit out gum before class begins. Check your outfit in the mirror before you head to class, too. You want coverage of all your important parts when you bend and move.