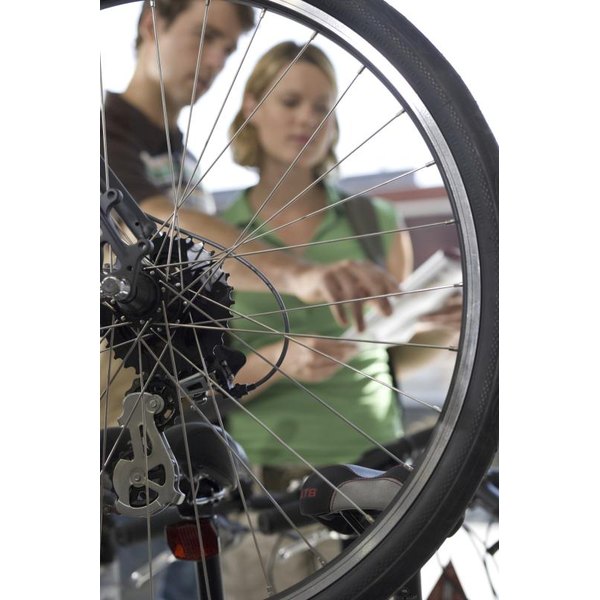 Getting a new bike is a gateway to a healthier lifestyle. Getting the wrong-size bike, however, can make your riding experience less than enjoyable. Having the correct frame size can prevent pain in your lower back, neck and knees while improving your efficiency and power overall, letting you spend more time in the saddle.
Check Your Inseam
Coordinating your frame size to your proportions starts with your inseam. For cyclists, the inseam measurement is called your pubic bone height. Using a tape measure, find the length of your inseam from the base of your pelvis between your legs to the base of your heel on one leg. When you take this measurement, wear the shoes you intend to cycle in. Once you've got it, you can find the corresponding frame size for your bicycle by checking the manufacturer's frame size chart.
Sizing System
Measurements on road bikes and mountain bikes are displayed using different systems. In the United States, the metric system is used for road bikes while standard system measurements are found on mountain bikes. Frame height on road bikes, usually between 48 and 63 centimeters, is a measurement of the seat tube, which corresponds to your pubic bone height. The measurements for mountain bikes fall between 15 and 22 inches. You'll find that some road bikes and most mountain bikes use basic frame sizes like a small, medium, large or extra large, but you can still find the actual measurements of these frames to compare different brands.
Testing Seat Height
Once you've used your measurements to settle on a frame, you can test out the fit quickly using the seat height. With a wall or table to support you, get on the bike and raise the seat height until your knee is just slightly bent at the lowest point in your pedal stroke. Then, lean forward and check how difficult it is to reach your handlebars. If you're too hunched over, you might need to go down one size so that the top tube is short enough for your torso and arms.
Getting a Perfect Fit
Small adjustments in your seat height, stem length, crank arm length and even your cycling cleats can make a big difference in your comfort level. Bike frames also come in men- and women-specific designs, which have slightly different measurements based on the proportions of each gender. A women's-specific bike will be a better fit for individuals with longer legs, wider hips, shorter torsos and narrower shoulders.