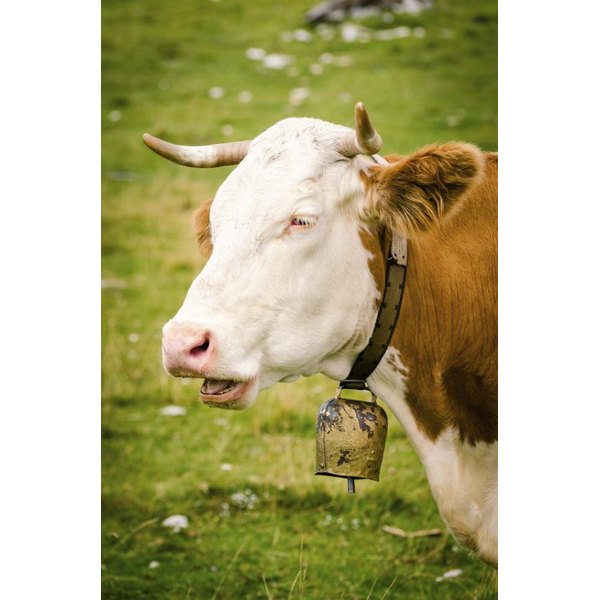 Whether you're cheering for your own team to trying to shout down the opposing team's fans, there comes a time in every sports fan's life when he needs to make a lot of noise. Enter the cowbell: obnoxiously loud and impossible to ignore, but still small enough to carry discreetly in a coat pocket, backpack or purse. You can also show your team spirit by decorating your cowbell to match team colors or symbols.
Quick and Easy
Cowbells don't offer much real estate for decorating. Make the most of the limited space by applying team stickers and logos to the faces of the bell. You can also use permanent markers or paint to draw your team name, your favorite player's number or a brief message on the cowbell. Keep it short and sweet, especially if you're hoping for you and your cowbell to appear on the stadium's overhead screen.
Consider Shape
Not every cowbell was made to be a basketball. Save the marker-drawn or painted basketball, baseball and soccer ball decorations for round-bodied cowbells. If you're going to decorate your cowbell with sticks, the relatively flat surfaces of a rectangular or square bell will help the stickers adhere longer than they would on a round bell.
Embellish the Handle
Dress up your cowbell's handle -- and ensure that you'll get your fair share of attention -- by wrapping ribbon, raffia or fake fur around it. If you're cheering outdoors in the cold, protect your hands by wrapping a long fleece strip around the handle. Tie the ends of the fleece strip together if you want a temporary covering, or secure them with a dab of hot glue for a permanent solution. The same goes for any other handle embellishments you apply.
Glitter and Beads
If you're less concerned about matching team colors and more interested in standing out from the crowd, apply eye-catching decorations like glitter, colored sand or small beads. Spray or brush an all-purpose adhesive onto the outside of the bell, then sprinkle glitter or sand over the adhesive; for mid-size beads, use a dab of hot glue to secure each one. Finally, muffle the cowbell's noise during your trip into and out of the venue by placing a wad of paper or cloth around the clapper.