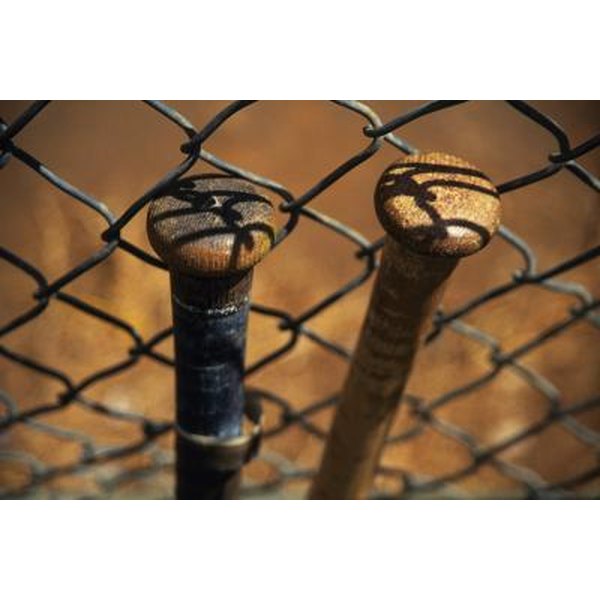 Baseball has been America's pastime for more than a century. Phrases like "knocked it out of the park" and "swing and miss" are in everyone's vocabulary. This country oozes baseball and Louisville Slugger has been there every step of the way. Whether it's a signed keepsake or your grandfather's bat, there's a way to approximate the age of your slugger.
The Oval
Roll the barrel in your hand until you find the oval trademark stamped into the bat. If the inside top of the oval says "125" and the rest of the oval is filled with the words "Louisville Slugger," then your bat was produced since 1980. But if the middle of the oval is stamped anywhere with the name "Hillerich," then your bat originates from before 1980. Telling the difference between these older bats requires a closer look.
Antique Sluggers
If "Trademark," and nothing else, appears along the outside bottom curve of the oval, you have a turn-of-the-century keepsake made between 1897 and 1911. If you find "Trademark Reg US Patent Office" in that spot, then the bat was carved between 1911 and 1929. Of these particular bats, ones with four dashes and two dots inside the oval were made prior to 1916, and ones with "Made in the USA" stamped inside the oval were crafted after 1916. Finding "Trademark Reg" below the oval tells you the bat was born between 1930 and 1947. "Reg US Patent Off" denotes a bat made made from 1948 to 1963. And if you find nothing underneath a Hillerich-stamped oval, then it was constructed between 1964 and 1980.