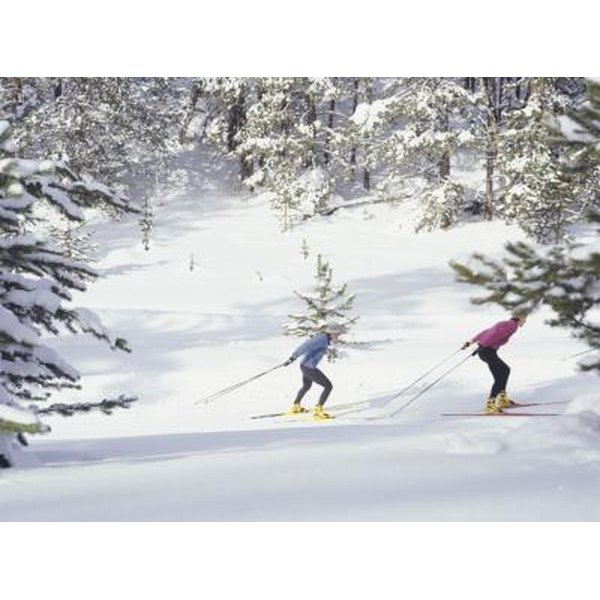 Cross-country skiing gets you out and exercising in the white stuff without all the risk and expense of downhill slopes and ski resorts. Strap on your skis, grab your poles and head out to an urban park, an open meadow, national preserve or groomed trail. You'll burn calories and burn through stress with extreme efficiency as you experience the stillness of nature for an afternoon or a winter season.
Gearing Up
Rent cross-country gear by the day or invest in your own once you decided to pursue the sport. You don't need much. Stick to touring or light touring skis that are stable, sturdy and fairly light with a slight hourglass shape for easier turning. Add a pair of protective boots that attach to the skis with bindings, but leave your heels free to move up and down as they do when you are walking. Comfortable boots feature strong ankle support and a thermal lining. Sunglasses are a good idea but optional. Ski poles are a necessity -- flexible, durable fiberglass, aluminum or a high-tech carbon fiber will help you to balance and accelerate. Add your usual active winter layers with waterproof gloves to protect your hands when you fumble with bindings, pick up a dropped pole or avoid a face-plant after a rough patch.
Making Tracks
Go for a groomed trail while you're breaking in a new skill. A smooth trail with parallel tracks guides your skis, speeds your progress and saves your energy when you're a novice. Backcountry skiing, off-trail on fresh powder -- ostensibly so romantic -- is a really tough slog and takes effort and experience, as well as heavy-duty skis. When you have to blaze your own trail in a pristine park or open area, find powdery snow and a level surface so you won't be slogging through wet, heavy snow or sliding and stumbling up and down hills. Skate-skiing is a more advanced version of cross-country that uses a diagonal skating motion and weight shifts like ice skating. For that you need a flat groomed surface with no tracks.
Classic Cross-Country
The shuffle is your big move for cross-country 101. Shuffle-skiing involves moving your legs in an alternate parallel sliding motion, keeping the skis in contact with the snow within packed-down parallel tracks. Start by standing in the tracks, skis parallel, knees slightly bent and ankles bent forward, torso erect. Feel your weight balanced right over your feet. This is the best position for remaining vertical as you glide over the snow. Shuffle one foot forward, then the other, finding your balance and experimenting to see how much force you should use to push off on each shuffle. Try a glide-kick. Push forward as you glide on one ski, then the other, shifting your weight from side to side. Once you get the rhythm, bring the poles into the equation. Bring the arm opposite to the kicking leg forward to plant the pole in the snow and push back to increase the power of your kick.
Falling Down, Climbing Up
A close encounter with the snowy surface means sorting out your tangled skis and rising to shuffle another day. Keep both legs together to one side with the skis parallel -- you may have to sit or roll back to uncross them. Scramble forward so you are kneeling on the skis, grab your poles and push yourself up. Keep from sliding by barely crossing the toes of the skis so they won't take off without you. Clamber up a rise with a herringbone step and a slight forward lean. Turn out the toes into a wide V, "sit" a bit in on your ankles to dig the edges of your skis into the snow, and push yourself up, lifting a ski and same-side ski pole together. Stab the pole into the snow, thrusting yourself forward. Lean on the pole side as you lift the other ski for a diagonal step on that side.