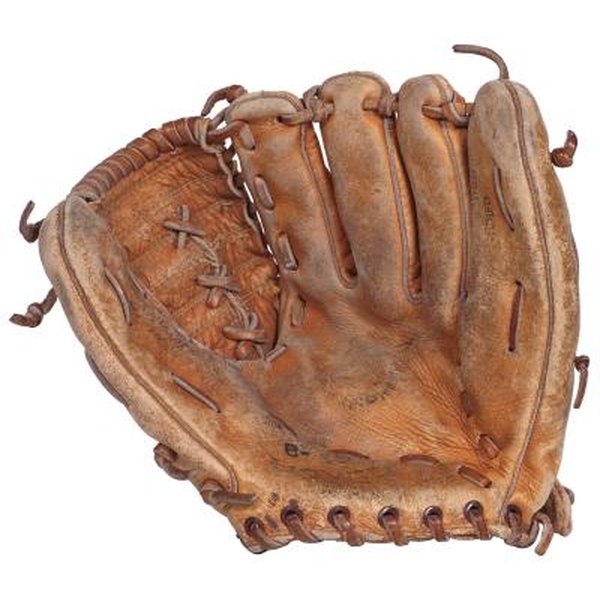 No matter how well a beloved glove is cared for, its laces will eventually wear down, dry out and break over time. Relacing a baseball or softball glove can extend its lifespan, a huge benefit for those who have taken the time to break their mitts in to their exact specifications. Restringing it yourself doesn't require special expertise – just the right tools and a little patience.
Step 1
Rub some glove conditioner into the new laces, which will make them easier to work with.
Step 2
Remove the laces that need replacing – but don't rush. Many find it useful to remove the laces in stages, which makes it easier to follow the existing path when relacing. It also may help to take close-up pictures of the lacing, which can provide a refresher if needed.
Step 3
Start with the webbing, which tends to have the most variety of lacing patterns. Depending on the model of glove, you may have to detach the web entirely as you remove the old laces, and some of the laces on the fingers may need to be removed at this point as well.
Step 4
Place one end of a lace into your lacing tool, and tie a knot at the other end. Using your lacing tool, insert the new laces into the holes from which you just removed the old. Pull the laces through tightly, using the pliers if needed – they will loosen as they break in. Follow the pattern of the old laces for each section until completed, and tie it off in a knot when you're finished.
Step 5
Move on to the fingers, removing old laces and replacing with new as needed. Tie off the lace with a square knot when you're done with each section.
Step 6
Re-string the heel of the glove, which also offers you the chance to open up the interior of the mitt, replace the padding, and replace or repair the interior lining if it's been damaged by use. When relacing, this area of the glove isn't tied off by a knot. Instead, pull the lace through the previous loops to attach it in place.