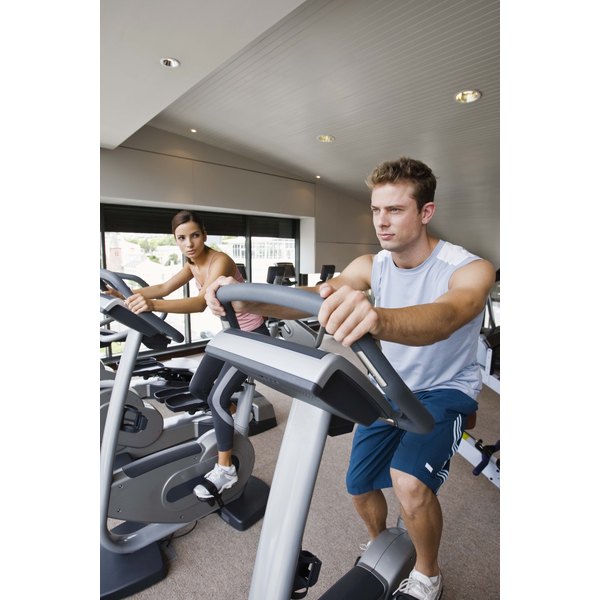 Finding the right clothes to wear to the gym can sometimes be a daunting task even for the most experienced health club veteran. There are hundreds of brands and styles of sportswear to choose from, making a simple trip to the shopping mall seem like running a marathon. The same goes for footwear. Following these few simple suggestions can help take the burden out of deciding what clothes to wear to the gym.
Getting started
Today's modern gym offers a myriad of classes, from aerobics to yoga. Deciding on a workout regimen that is right for you is a good first step. Is it weight training? Kick boxing? Do you want to take spinning classes? Ask for a consultation. Speak to a fitness specialist or certified trainer to create a workout plan based on your desired results. Take advantage of gym tours to identify what types of classes and exercise equipment are available at the facility and will fit into your routine.
Clothing
Finding the right clothes should be much easier once a workout routine is established. Being comfortable is most important, however. Workout attire should be flexible enough that it doesn't constrain any exercise movements. Oversized or baggy clothes may be too cumbersome and create a hindrance to any workout routine.
Each gym will have a dress code. Contact your fitness center or check the company Web site for proper dress attire before purchasing any new clothing.
A cotton t-shirt always works best for an upper garment, although there are many high-tech fabrics on the market that are lightweight, stretchable and repel moisture. These can be much more expensive than traditional cotton shirts, however. You also can select from a variety of styles, such as a crew neck, performance, sleeveless and long sleeve. Choose a garment that best fits your budget and fashion sense.
Most gyms are climate-controlled, so shorts can be worn any time of year. Leisure shorts or bathing suits are not the best options. Gym and training shorts may be the top options for general workouts, but consider jogging shorts for longer runs on the treadmill. Cotton and polyester seem to be the standard materials, although high-tech fabrics are available in shorts, too.
Athletics pants also can be worn at the gym. Make sure the bottoms are an appropriate length to avoid unnecessary snagging or tripping. Yoga or stretch pants also can be worn.
Footwear
Having the right footwear is necessary to anyone's gym wardrobe. Most sports retailers will provide a good assortment of shoe types and separate them by category, such as running, basketball, tennis and cross training. This makes it easier when choosing the correct shoe for the appropriate exercise routine. Stores usually will have special sections for men, women and children.
Do research. Explore trusted websites and periodicals to find the best values and recommendations on shoe price and performance.
Talk to an experienced salesperson. Tell the merchant what type of shoe you are planning to purchase and for what types of workouts. Discuss your research and ask his opinion on what might work best.
Speak to friends. Ask for recommendations from people you know about the shoes they use at the gym and how they like them.