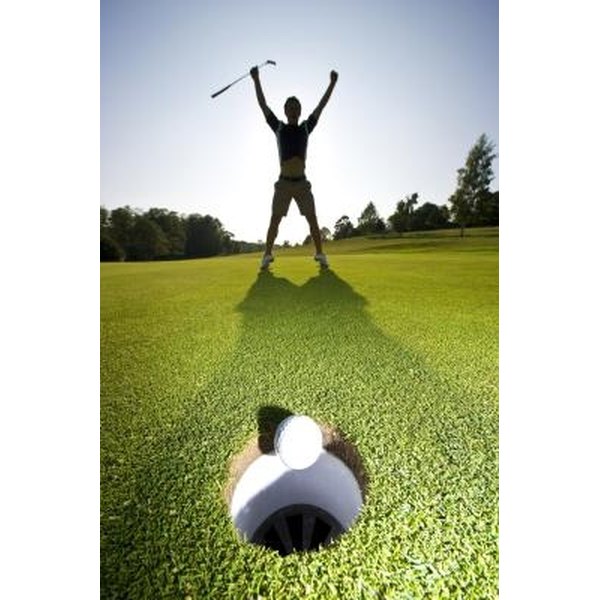 Having a caddie book can make the difference between a haphazard round of golf and a personal best. Individualized yardage books are a compilation of preparation work and study of a particular course to match the golfer's game. Golfers use their caddie guides as course management assistants, checking for information on how best to attack the course or defend a position. Whether it's your home course or one you want to play, you can chart your own caddie book and shave strokes off your next round.
Scout the Course
Go to the course to see the holes and do some walking. Play a practice round and hit balls to test the best places to land or simply ride and walk areas of the course that are of interest. The primary purpose of the scouting trip is to take measurements and make strategic notes.
Draw a general outlined shape of each hole from tee to green or use pictures you printed for your notes as you go hole by hole through the course. Mark good landing areas for your tee shots, trouble areas to avoid, and any out-of-bounds lines.
Obtain yardages from important fixed points on the course to the center of the green by walking the distances or using a rangefinder. Fixed points include sprinkler heads, bunkers, water hazards, trees, rock formations, waste areas and other obstructions.
Draw the general shape of the green for each hole. Pace the distances for the length and width in yards and insert those numbers on your drawing. Include features surrounding the green such as bunkers and shaved areas, with distances to the edges of the green.
Roll your golf ball on the green in different directions to help you see the slopes. Illustrate with arrows on your green diagram the directions that the ball is moved by gravity. Sketch mounds, humps and dips on the green.
Make Your Book
Transcribe your pictures and notes into a small spiral notebook or series of 3- by 5-inch cards so that each hole is neatly captured on one page. The cards can be stapled together, hole-punched and bound with a locking clip, or inserted in a small plastic photo album for protection.
Write personal strategy tips for how to best play that hole to match your strengths. Illustrate your preferred line of play, landing areas and anticipated club selection.
Include a chart of the average yardages you hit each club.