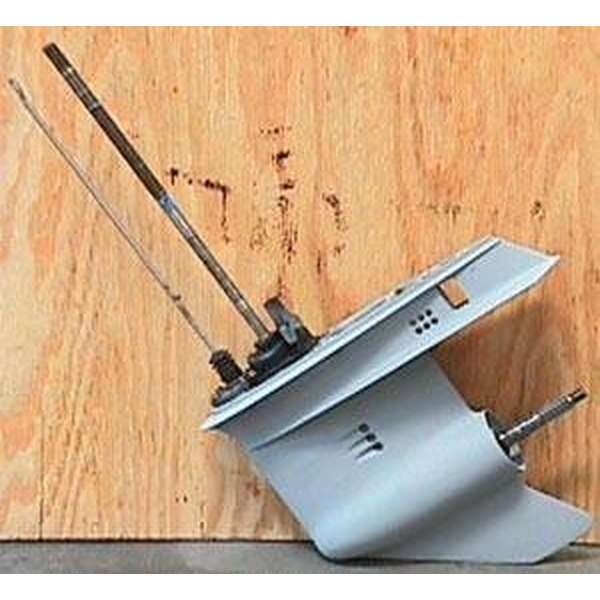 A lower unit is the bottom half of an outboard motor for a boat. The lower unit includes the engine's propeller, crankshaft and drive mechanism and is responsible for propelling the boat through the water. It is possible to purchase a lower unit separately from the rest of an outboard motor, which allows you to change the lower unit without having to replace an entire engine. A Johnson 115 is a 115 horsepower lower unit that is widely used in smaller boats.
Use the mechanical wrench to unbolt the propeller from its shaft. Remove the propeller and set it aside.
Remove the main bolt from the fin above the propeller on the lower unit using the mechanical wrench. Also remove the four bolts on either side of the fin.
Slide the lower unit out from the outboard motor by pulling it straight down. You may need to wiggle the lower unit around slightly in order to separate it from the engine.
Look underneath the engine and find the rubber o-rings that sealed the lower unit's crankshaft and drive train. The o-rings will be located at the front of the compartments into which the crankshaft and drive train fit. Remove the old o-rings using a screwdriver or pliers to pry them loose if necessary.
Replace the old o-rings with the new o-rings. Push the new o-rings firmly into place with your hands.
Grease the crankshaft and drive train on the new lower unit with the oil can. Slide the new Johnson 115 lower unit into the outboard motor. Be careful not to bang the crankshaft or drive train when doing so.
Fasten the new lower unit to the engine using the bolts. Use new bolts if the old ones are rusted or corroded. Re-attach the propeller to its shaft and tighten with the mechanical wrench.