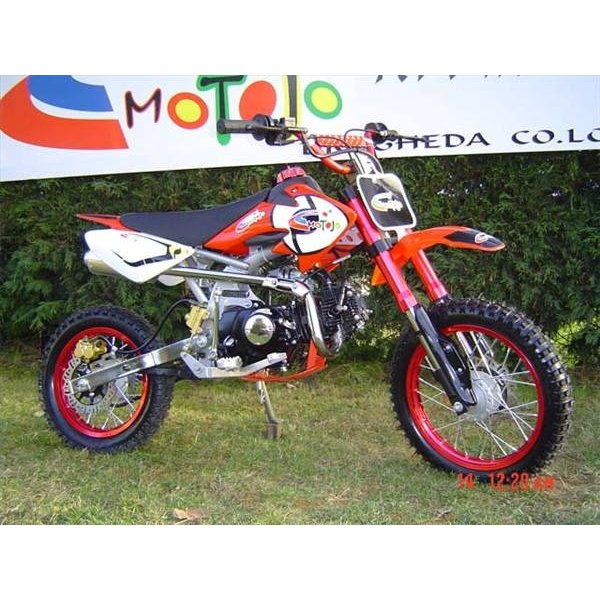 Dirt bikes are small motorcycles designed for off-road travel and racing. They are also known as pit bikes or trail bikes. Motorcycle manufacturers began making dirt bikes in the 1960s when the off-road riding trend began picking up speed. Modern dirt bikes are made in the United States, Japan and Europe. Made of lightweight materials, the bikes are designed to take an uneven surface with knobby tires and rugged suspension.
Getting Started
Dirt bikes have smaller, lighter engines ranging up to 500cc ("cubic centimeter," meaning displacement or size). Younger and beginning riders often choose the 125cc dirt bike, which is easier to handle than a larger and heavier engine. Most 125cc bikes have four-stroke or two-stroke, water-cooled engines. The spring-coil suspension allows these bikes to comfortably take steep hills, rough trails and muddy surfaces. Their simple construction makes them easy to maintain and repair.
The Popular 125cc
Dirt bikes are made in a variety of engine sizes, with the popular 125cc size coming with no frills. These bikes lack equipment that would make them "street-legal," such as headlights and turn signals. They have low ground clearance, about 10 inches at the most, and their small gas tanks hold about a gallon of fuel. They can carry a single rider to top speeds of about 50 miles per hour. Easy handling and light weight, not speed, are the essential ingredients for successful racing.
Dirt-Bike Racing
The sport of dirt-bike racing, or motocross, traces its origins to "scrambling," a popular trail-riding event that began in Great Britain after World War I. Racers formed teams and took part in a circuit with several stops around the British Isles. Eventually, the sport divided into several categories by engine size. The first international events pitted 500cc bikes against each other across a European circuit. In the 1960s, competition categories expanded to 125cc machines, while the sport grew in Japan and the United States. Dirt bikers also compete in freestyle and supercross (indoors) events.
Riding the Small Dirt Bike
Whether they're out on the open trail or meeting for competition, good dirt-bike riders share a few important riding techniques. They ride while standing with the middle of their feet balanced on the pegs. They lean slightly forward with their arms up and elbows out, keeping a finger or two on the clutch and brake levers at all times. On muddy surfaces, they shift the weight toward the back of the bike. On sand or loose surfaces, they throttle up to prevent the wheels from slipping sideways or fishtailing. And they always wear helmets, with elbow and knee pads also recommended.
Dirt Bike Tricks
The 125cc dirt bike can do some amazing things. The little bikes can take high jumps off a ramp or hill or pop wheelies to get across trees, rocks and other ground-level obstacles. The pros of freestyle competitions practice for years to get their back flips, seat grabs and no-handers just right.