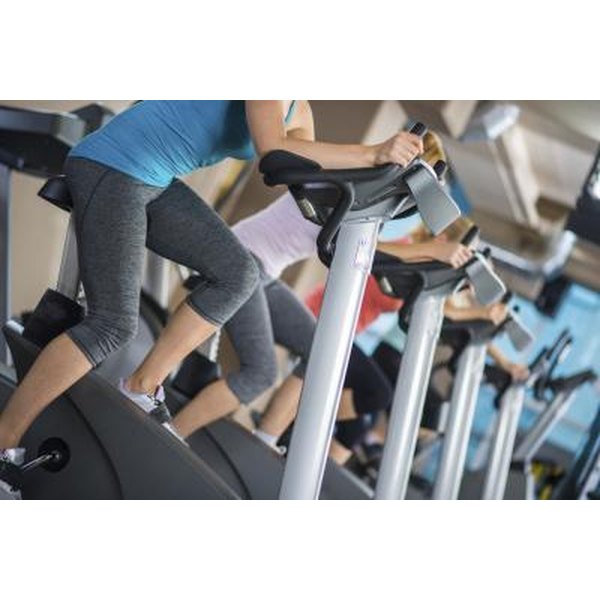 In the gym or at home, you have many choices for cardiovascular exercise. The Schwinn Airdyne Exercise Bike can be found in some fitness centers, or purchased for home use. Not only do you pedal like any other exercise bike, but the handles move as well, giving you an upper body workout. Used properly you can get a total-body workout and burn a high number of calories on the Schwinn Airdyne.
Burn, Baby, Burn
All exercise burns calories. As soon as you start moving, your body needs more energy and burns calories to create it. Exercise bikes are low impact, but that doesn't mean it has to be easy. In fact, vigorous cycling can burn about 391 calories in 30 minutes for a 155-pound person, according to Harvard Health Publications. You can also estimate how much you burn per minute. Light to very hard cycling can burn .12 to .21 calories per kilogram of body weight per minute. To determine your weight in kilograms, simply divide your weight in pounds by 2.2. Use your arms and legs to push hard, bringing your heart rate up for maximum calorie burn.
Back and Forth
There is no exclusive estimation for calories burned on a Schwinn Airdyne bike available. If you want to get a more accurate measurement than activity estimation charts, wear a heart rate monitor that tracks calories burned during your workouts.