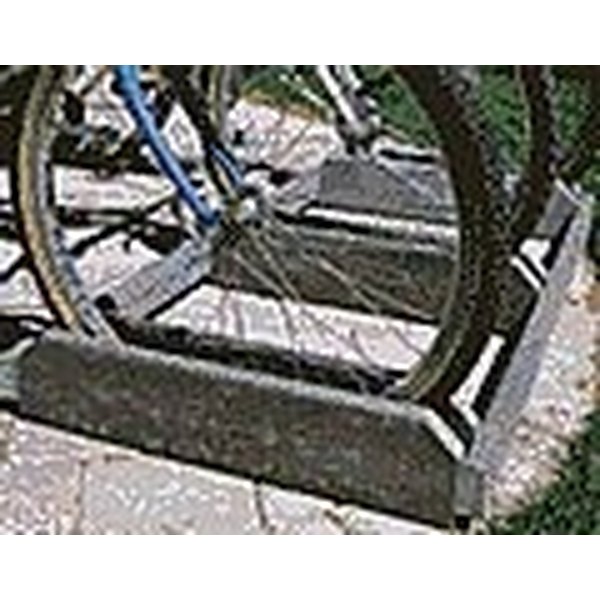 With these quick and easy plans to build a bike rack you can cut the wood, assemble the frame and customize the parking places for all of your bikes. You will be surprised by how simple these how to build a bike rack plans are and how easy it is to build a bike rack that can be customized for your family's various bikes. With just a couple of 2X4's, 2X6's, a saw, sandpaper and some screws you can be parking all of your bikes in a neat organized way before sundown.
Determine the Length of the Bike Rack you Need To Build: This customizable bike rack can be built for 3-? bikes. Before cutting your 2X4's you will want to determine how many bikes you will be using this bike rack for. For three bikes you will want to cut your 2X4s approximately 54" in length. This will give you enough spacing for the upright wheel holders and the bike tires for three bikes. You will want approximately 18" handle bar room on each side of the inside parking spots and 6" for the upright wheel holders for each bike.
Cut Your Lumber for Your Bike Rack: After determining the length to cut your 2X4 frame pieces go ahead and cut two the exact same length. For each bike you will need two 1 1/2 inch X 5 1/2" X 24" upright wheel holders. So for the three bike bike rack you will cut 6 lengths of 2X6s 24 inches long. I also recommend cutting the top corners on these 2X6 pieces at a 30 degree angle to add to the finished bike rack look. After cutting your pieces be sure to sand and varnish them if that's in your plan.
Assembly Your Bike Rack: This simple bike rack uses the two outside upright holders to complete the frame. You will first take the 2X4 frame pieces and two of the upright holding pieces and fasten them together with screws. Then you will get your first bike to measure the tire and place the next upright holder so that the first bike parking place is completed, leaving only enough room to place the bike tire in the space between the outside frame upright and the next upright. After screwing that in place you will continue with the additional upright holders by screwing each additional upright into the frame pieces. These upright pieces form the parking places for any bike tire and handle bar width with your customization.