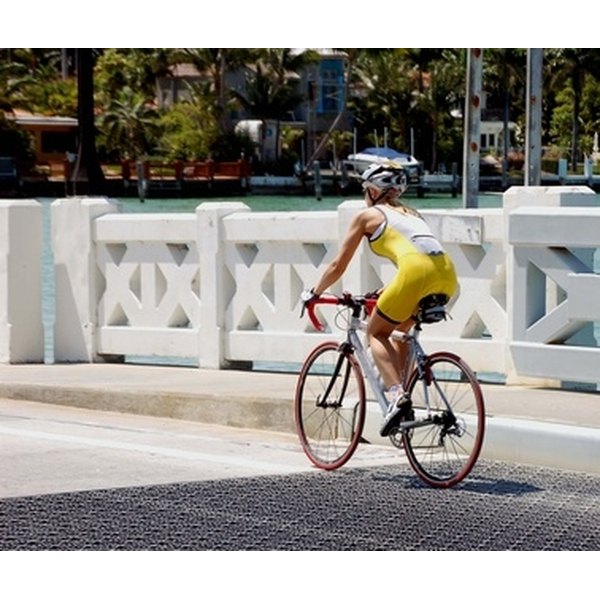 These days, it is usually difficult to tell the difference between a men's and women's bicycle. Generally, both versions have a bar at the top of the frame, located right between your legs. The days of that bar sloping down on a women's bike are pretty much gone. Often, women ride men's bikes with no problem. However, some women, due to differences in body design, must opt for a women's specific model.
Considerations - Frame
When it comes to sizing, the key parts of a bicycle frame are the seat tube and top tube. You measure the vertical size of a bike using the seat tube, which extends from the seatpost to the bottom bracket. The bottom bracket is the circular center portion of the frame just above the ground. The top tube spans the frame from the seatpost to the handlebar. As the Team Estrogen website explains, most women's bikes use a shorter top tube, which shortens your reach to the handlebar. This accommodates women who have short torsos. Steeper seat tube angles on women's bikes mitigate potential drawbacks of a shorter top tube, such as less stable handling.
Considerations - Other Parts
Companies tweak parts other than the frame on women's specific bicycles. For instance, handlebars and brake/shifter levers are specially designed for smaller hands. Most bike companies, according to the Team Estrogen website, use women's-specific saddles, which are "wider in the rear to accommodate a woman's wider sit bones." Frame materials are tweaked with the weight of a lighter rider in mind. For instance, Specialized Bicycle Components uses narrower and lighter frame tubing on women's bikes, making the bike's easier to control.
Geography
Women's specific bicycle designs are based on averages. Specialized uses the average height of a North American female--5 feet 4 inches tall--as a starting point for its women's bikes. In some parts of the world, a woman's average height is higher, up to 5 feet 6 inches tall. Elsewhere, the average is closer to 5 feet 1 inch tall. Specialized claims that using the 5 feet 4 inches measurement provides a happy global medium. What you should infer from this system, however, is that women's bike sizing--and bike sizing in general--is based on averages. You are not necessarily average, therefore, don't assume you need a women's bike or a certain size without trying out several sizes and styles first.
Expert Insight
Specialized's sizing scheme for women is similar to the ones employed by other bike companies. Many women with a long torso and short legs wonder if they should just ride a men's bike. While this sounds logical, Specialized points out that a long torso might also mean short arms. If you have short arms, you might benefit from the shorter reach to the handlebar a women's bike provides, as well as other female-focused characteristics.
Size Chart
Size charts, just like the science of bicycle design, are based on averages. Still, they provide a good starting point when shopping for a women's bike. In Specialized models, women between 4 feet 8 inches and 5 feet tall generally ride an extra-small size bike. Women in the 5 feet to 5 feet 3 inches range typically need a small size. Mediums often work for women between 5 feet 3 inches and 5 feet 5 inches tall, while larges usually fit females who are between 5 feet 6 inches and 5 feet 8 inches tall. An extra-large is usually reserved for women taller than 5 feet 8 inches. These numbers, with some variation, also apply to bike makers other than Specialized.