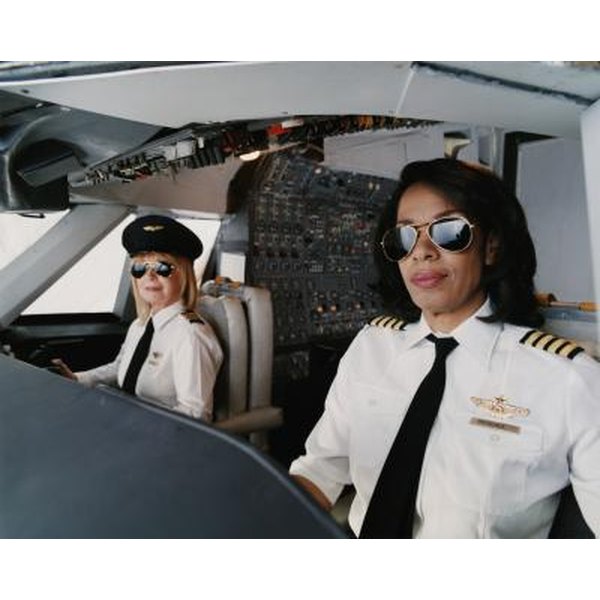 You're completely fascinated by the stunt pilots at the air shows you've attended. They execute seemingly impossible maneuvers with technical precision and dizzying speed. Also known as "aerobatics" pilots, these pilots are the "best of the best," and they put themselves through physically demanding routines that would exhaust the average pilot. Clearly, the pilots and their airplanes are in top condition for this extremely complicated "sky dance." You've taken some flying lessons yourself, and are wondering if you might have what it takes to join the stunt pilot ranks.
Step 1
Get your private pilot's license. In the United States, there are standard requirements that must be satisfied to receive a private pilot's license. These requirements include passing a medical exam, written exam and flight proficiency exam. The certification courses and exams are available through a certified flight instructor at an approved flight school.
Step 2
Log some flight time. Certified flight instructors say that a pilot's license is a "license to learn." Based on that statement, log as many hours as you can in a variety of conditions. Your goal is to learn how an airplane behaves, and to be capable of flying it safely at all times.
Step 3
Schedule an aerobatics flight. There are many aerobatics schools in the United States, and the International Aerobatic Club can help you find one. Sign up for an aerobatics demonstration flight with an instructor. This is an excellent idea for two reasons: (1) To give you a glimpse into aerobatics training and (2) To see how your body reacts to the flight. During the flight, you may have the opportunity to demonstrate your piloting skills to the instructor. He will then be able to determine your readiness for aerobatics pilot training.
Step 4
Map out a course of study. Your aerobatics instructor will go over a detailed list of skills and maneuvers that you must successfully demonstrate. Although each student will progress at his own pace, you need to show that you can keep flying safely at all times.
Step 5
Find an aerobatics plane. You have two options: (1) Purchase a specially constructed aerobatics plane; or (2) Adopt a pay-as-you-go approach on a rental plane. If you decide to buy your own plane, understand that aerobatics planes are constructed to withstand severe structural stress that would collapse a private plane built for straight-line flight. Under no circumstances should you attempt aerobatics maneuvers in the wrong kind of plane.
Step 6
Build your aerobatics skills. The International Aerobatic Club sanctions over fifty contests around the United States each year. There are five competitive classes to challenge pilots with all levels of experience.