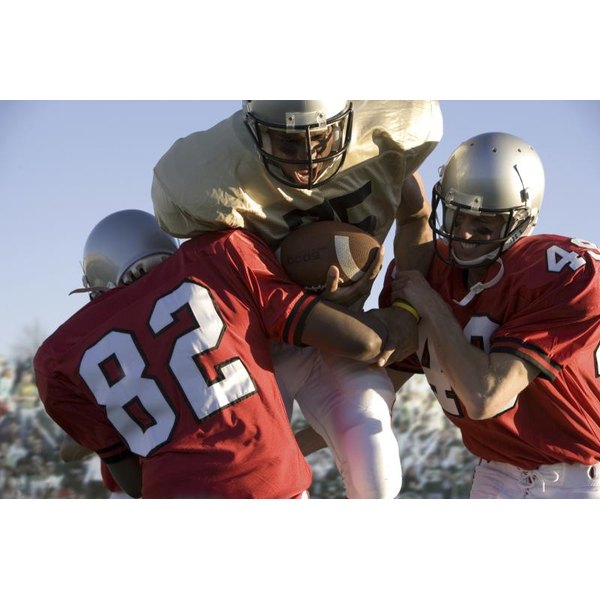 Great running backs have athletic explosiveness, a broad skill set and the ability to diagnose defenses. They are fast, quick, agile and physically tough. They can block bigger players and catch passes like wide receivers. With more college and professional teams playing wide-open "spread" offenses, running back versatility has never been more important.
Building Your Body
Elite running backs build functional strength and explosiveness. Tailor your workouts around football movements. Veteran NFL running back Chris Johnson uses single-leg squats to make sure his body is balanced. He builds upper body strength by doing curls flat on his back, with elbows on the ground. He builds muscle endurance on the incline bench, helping him shoulder bigger workloads in games. He sprints in place with high knees while attached to resistance bands. His resistance training also includes vertical leaps and alternating forward lunges.
Skill Development
Your training routines should also focus on particular play assignments. For instance, you can use agility bags for various "punch drills" to help you become a better pass blocker. There are myriad pass-catching drills you can use to improve your receiving ability. Ball security gauntlets can help you protect against fumbles. A good team drill involves five cones, four "holes" and three defenders on the line. As you take a handoff from your quarterback, the defenders shift to leave one hole open. You recognize the hole and hit it without hesitation.
Studying Defenses
Elite running backs are as good in the passing game as the run game. You must read blitzes, block blitzes and counter blitzes by getting open for quick passes. You must go in motion and/or line up wide to run pass routes like receivers. You must prepare for games like a quarterback. "It's a lot of studying, a lot of focus, a lot of hearing what the quarterbacks are saying," Kansas City Chiefs running back Jamaal Charles told ESPN. "I have to learn coverage, man, cover 2, and all that stuff learning to play wide receiver."
Field Vision
Before the snap, you must read the defensive alignment and shifts and anticipate the opponent's play call. Then you read the play as it unfolds and adjust on the fly. Great running backs not only see would-be tacklers, they learn to sense them. Former NFL star Marshall Faulk demonstrated how outstanding field vision pays off. "Some guys have tunnel vision, but Marshall sees everything," former Rams running backs coach Bobby Jackson once told ESPN. "I think he sees not only the guys approaching him, but the guys behind him."
Football Speed
Pure speed doesn't ensure big-play ability. Great running backs need functional speed -- the ability to play football fast. Some players who can run the 40-yard dash in 4.6 seconds play faster than players who run it in 4.4. Great instincts, decisiveness and acceleration are more valuable than pure speed. "I try to do everything -- just about everything -- as fast as I can," Faulk told ESPN. "If I make decisions and make them fast, and I move fast, I can beat most people."
Agility
Matt Miller discusses the importance of running back agility on the New Era Scouting website, which he founded. "Agility is the player's ability to cut, his flexibility and overall athleticism," he wrote. "An agile back can make people miss in the open field and has the balance to make a cut on a corner. ... It is changing the body's direction with speed and precision. That sums up what a good running back must be able to do, especially on outside runs and counters."