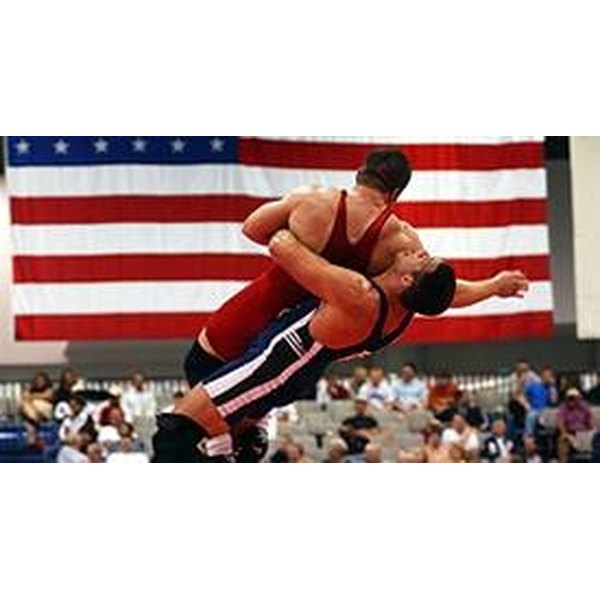 Becoming a good high-school wrestler requires a lot of time and effort, but a dedicated person can achieve this goal by applying a soild work ethic. The best time to start preparing is before entering high school. But if you're already there, you still have time. The three main elements that are required are strength, technique and agility. By practicing and strengthening all three of these elements simultaneously, you can become an accomplished wrestler.
Talk to the school's wrestling coach and announce your intention to join the wrestling team. The coach might run specific training programs during the summer you will need to participate in.
Build your strength by working out with weights three or four times a week in the school gym. Because wrestlers use all of their muscle groups when wrestling, use every exercise machine in the gym. Playing catch with a medicine ball is an excellent exercise to work out all of your muscle groups.
Start a diet that is high in protein. Because you are working out, you will need such foods to develop your muscle strength. Avoid junk foods.
Develop technique by attending wrestling matches and learning wrestling moves from the coach. Practice these techniques whenever possible with friends and other wrestlers. Not only will you improve your technique, you'll gain strength and agility by practicing.
Improve your agility by running steps, an exercise in which you jog up and down a set of stadium stairs until you reach exhaustion. The short steps will improve your footwork. Pump your arms in rhythm with your steps to improve your hand and arm agility.
Be the first to arrive at wrestling practice and the last to leave. Practice every wrestling technique until you've mastered it. Ask the wrestling coach to grade your technique daily until you're receiving the highest grade possible.
Don't give up. Every athlete runs into a difficult time during his career. The good athletes are the ones who continue to practice and improve in the face of adversity.