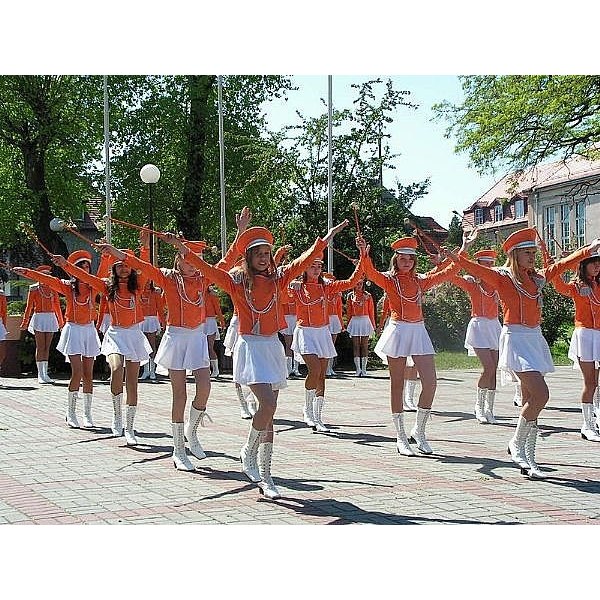 Majorettes twirl batons, streamers, knives or any other paraphernalia that can be tossed skyward, usually accompanied by a live band. You most likely have seen majorettes during the half-time show of your favorite high school or college football team. Here's how to become a majorette.
Begin taking private lessons as early as possible. Few majorettes start the sport upon entering high school (which, outside of private competitions, is generally the earliest majorettes can perform publicly). Search "(name of city)-majorette lessons" or "(name of city)-baton twirling lessons" to find an individual near you who offers lessons. If you live near a high school or college that has majorettes, contact the marching band director to ask who choreographs the majorettes' routines. If you personally know a majorette, ask her from whom you should take lessons.
Attend football games or marching band competitions to watch the majorettes in action. Observe what the majorettes do and try to learn those skills. For example, most majorettes need to be able to do gymnastics such as front walkovers, illusions and cartwheels. In fact, taking gymnastics or dance lessons greatly helps a majorette, as much of being a baton twirler is showmanship and dance.
Try out to be a majorette at your high school. Some high school marching bands may train a prospective majorette from the ground up if she has a lot of potential-that is, natural dance ability, gracefulness, rhythm and the ability to pick up skills quickly. As noted above, however, most majorettes begin their training long before they ever try out for the marching band at the high school level.
Practice every day during high school to better yourself. You will face fierce competition for a college majorette position and you must improve your skills markedly from the high school level for consideration at the university level.