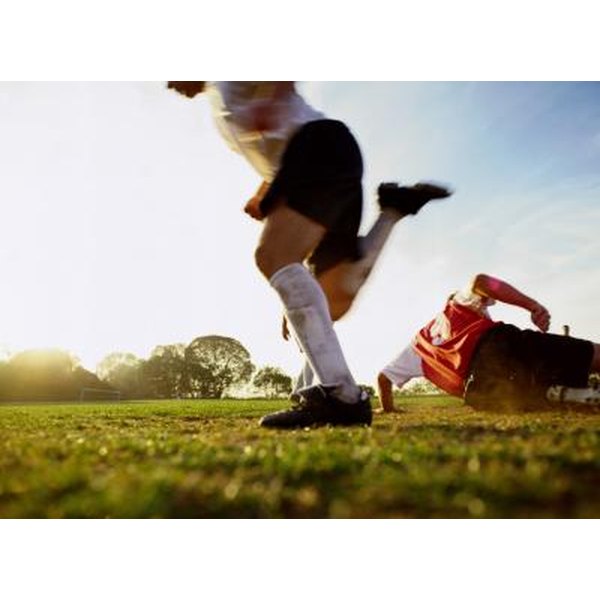 A great soccer captain must be more than just a top player on the team. As captain you set the right tone by working diligently in practice and competing hard in games. You carry out orders given by your coaches and act as their extension on the field. You treat opponents, officials and spectators with respect. In turn, you command respect with your actions, words and demeanor.
Leadership by Example
Great captains maintain high team standards by setting -- and meeting -- the highest possible standards themselves. You don't just lead the team through practice, you execute drills precisely and show others how to do the same. Compete hard while remaining focused and poised. Win the battle for 50-50 balls, but don't play recklessly. Take charge without playing selfishly. Don't show up opponents or teammates when they make mistakes.
Leadership with Words
Coaches can only do so much to influence a team. Often the most effective words are spoken by a team leader. You can make these comments on the field during practice or games. Occasionally you must address the whole team, sometimes in the clubhouse. Former professional player Jamie Redknapp had this recollection of England captain Tony Adams for the Daily Mail: "He gave a speech at half-time in Euro 96 that made my hair stand on end – it wasn't Churchill, but it was very much along the lines of 'This is our place; we're not going to let the Jocks beat us in our backyard. It's not happening!' I came on for the second half and I was ready to run through a wall."
Coaching on the Field
Soccer is a continuous-action sport. Coaches can't send in every play as in American football. They can't come onto the field for visits as in baseball. They can't call timeouts every few minutes as in basketball. They rely on their captains to keep the team together on the field. You must take your cues from the sideline and do everything you can to keep your team on point.
Communicating with Coaches
Just as you must reinforce the coaches' message to the players, you must give the players a voice with the coaches. Take player concerns back to the coaches so problems don't fester within the team. Don't just pass along the usual gripes. Consider the complaints, then bring serious concerns to the coaches in a constructive fashion. Good coaches welcome team insights from their captains. They risk losing command of the group if they ignore them.
Communicating with Officials
Representing your team with the officials is your most visible duty as a captain. Understand the rules and be alert to all the spontaneous developments of the game. Remain a firm but diplomatic advocate for your team. Earn the respect of officials by playing the game honestly. That will allow you to speak to them with credibility.