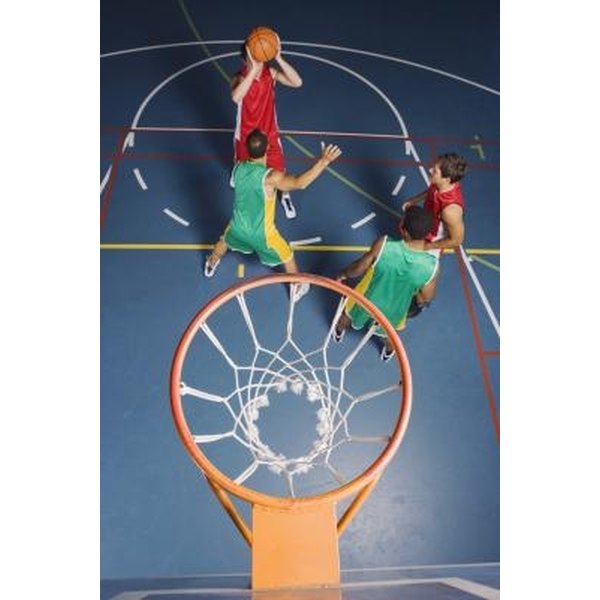 Regulation basketball hoops can be expensive investments, particularly when you add in the price of a backboard. By making your own backboard and hoop, you can save money and enjoy the project. Following International Basketball Federation rules for dimensions and measurements will ensure you have a regulation basketball hoop to practice and play with.
The Backboard
Measure and cut a piece of plywood. The standard size for a regulation NBA backboard is 6 feet by 3 1/2-feet.
Paint the plywood white on both the front and back.
Find the center of the backboard by measuring 3 feet from the sides and 1-3/4 feet from the top. Mark the spot with a pencil.
Measure 12 inches from the center mark toward each side and 9 inches from the center mark toward the top and bottom.
Draw a rectangle connecting the four measurements from Step 4. This creates the "shooter's square" found on backboards with a regulation size of 2 feet by 1 1/2 feet.
Paint a 2-inch wide red line along the rectangle so that the measurements you took line up with the outside of the line.
The Hoop
Cut two pieces of steel 6-by-6 inches and weld together to create an "L" shape.
Lay an 18-inch steel ring on one side of the "L" so that it reaches both corners and trace the rim.
Cut where you traced and weld the cut part to the edge of the rim.
Count the number of hooks you will need based on the number of positions on the net and weld that number of hooks around the rim, equal distance apart.
Screw the back of the "L" to the bottom, center of the backboard, hang the backboard and net.