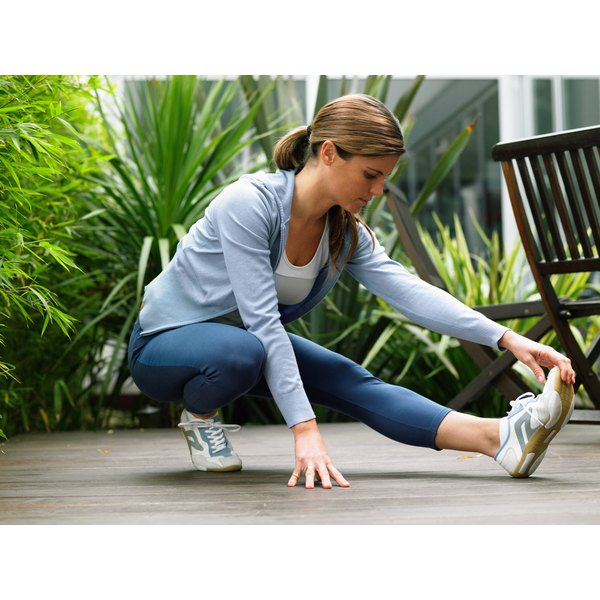 Proudly lacing up her bright yellow sneakers, a San Diego woman feels good about the way she looks for her late-afternoon jog. While warming up at the local gym before his weekly rec league game, a Milwaukee man is confident that his hoop shoes will provide the traction and support the brand's label promises.
Regardless of the activity, weekend warriors across the country demand both style and performance.
"These days, people working out not only want to feel good, but look good in their efforts," said Danny Abshire, co-founder of Newton Running in Colorado.
The competition among manufacturers to meet the constantly evolving requirements of sneaker wearers in this marriage of style and function is just as fierce as any triathlon, 10k race or pickup basketball game. It involves an explosion of consumer marketing psychology, increasingly complex foot biomechanics and a rainbow of colors laced together to cover every taste.
Jumping Into Style
In the sneaker world, the demand for both style and performance soared to unprecedented levels because of Michael Jordan, one of the greatest athletes of all time. Athletic footwear changed forever when Nike came out with the Air Jordan in the mid-'80s.
"For the longest time, athletes were more concerned about function alone," said Octavio Lubrano, Nike senior footwear designer. "Michael [Jordan] simply wanted to create a shoe that matched his Bulls uniform. It went against NBA rules at the time, but Nike paid the fine and helped Michael start a new trend of style that revolutionized the sneaker business because of his desire to both look good and feel good in his footwear."
Basketball shoes, with their innovative style, continue to be a trendsetter in the athletic shoe industry. Clearly, the duo of Nike and Jordan set the pace with such popular models as Air Flight and Flywire.
"When Michael Jordan signed his deal with Nike, the whole consumer sales strategy changed everything in basketball. They conquered the market and have dominated ever since," said Santa Monica podiatrist Dr. Mary Schuh (whose name, coincidentally, is pronounced "shoe").
Basketball shoes have become so trendy that there are legions of consumers who can't dribble or shoot a free throw, but they wear the shoes anyway strictly as a fashion statement. Manufacturers like Adidas, And 1, Peak, as well as Nike/Air Jordan offer a range of casual "basketball" shoe models.
Still, when it comes to style, older basketball shoe styles are still popular -- as fashion statements. Consider that a basic pair of Chuck Taylor All Star hoop shoes really haven't changed much since they came out in the 1920s. While sneaker engineering has come a long way since then, a lot of people still walk around in this shoe designed 90 years ago.
When it comes to physical activities, though, these shoes don't work for their original purpose, given the advances in athletic shoe technology. "A Chuck Taylor isn't the best thing you can wear as a basketball shoe -- but cut it down, make it a low top, give it some Velcro and a gum sole, and it becomes a great skateboard shoe. It gives you a great feel for your board, and the gum sole sticks to the board really well," Schuh said. "That's how skateboard shoes came about -- reducing padding to feel the board. The poly wheels theoretically absorb the blow. It's a less-is-more example that started with modifying an old basketball shoe."
Performance and Design
Another area where style and performance count big time is the running shoe market, which also crosses over into various gym activities, triathlons, trail running and court sports, among others.
Like basketball shoes, running shoes do well with consumers because they infuse fashion with function. Manufacturers know that the key to surviving in the industry has more to do with performance than aesthetics, though. While the styling adds sex appeal, a lot of scientific research goes into the actual design, which is why quality athletic footwear is so pricey.
"We address the design of our shoes from a functional point of view first, including biomechanics and body types, because it can look great, but if it doesn't perform, we lose," said Carson Caprara, footwear product line manager for Seattle-based Brooks Sports. "They may buy it once, but they won't come back if it doesn't meet their performance needs."
Cushioning is a core element when it comes to the performance of an athletic shoe. Material innovations that aid in style are almost all tied to making the shoe lighter and sleeker -- where a "less is more" philosophy reigns. Caprara says it's the lightest of shoes, which maintain strong cushioning (such as Brooks' new PureProject line), that have produced significant growth in multiple categories, including yoga and cross-training.
While every part of the shoe has important functions, including the upper, mid and outer soles, reflective logos and stretchable mesh screens, each area is made with an overall aesthetic in mind. You should look for athletic shoes with lightweight yet supportive materials and breathability. If your feet get hot and sweaty, your system has to work harder to cool your body down as your temperature rises. If you can vent that heat out faster, you're going to run cooler. For ventilation, a highly breathable mesh is a key component. It's essential to read consumer reviews and consult knowledgeable salespeople to determine the best athletic shoe for your needs.
"Poor-quality shoes and using the wrong shoes on the wrong surface can lead to stress fractures, arthritis, bunions, hammer toes and blisters. You can literally damage joints to the point that you require replacement surgery," Schuh said. "Hips and knees also take a lot of punishment. If you have a budget for just one shoe, that makes it very difficult. You need to consider whatever you're doing that is the most abusive to your feet. For example, if you're a distance runner but also want to cross-train, go for the best shoe for running since you'll be putting much more time and distance into that activity."