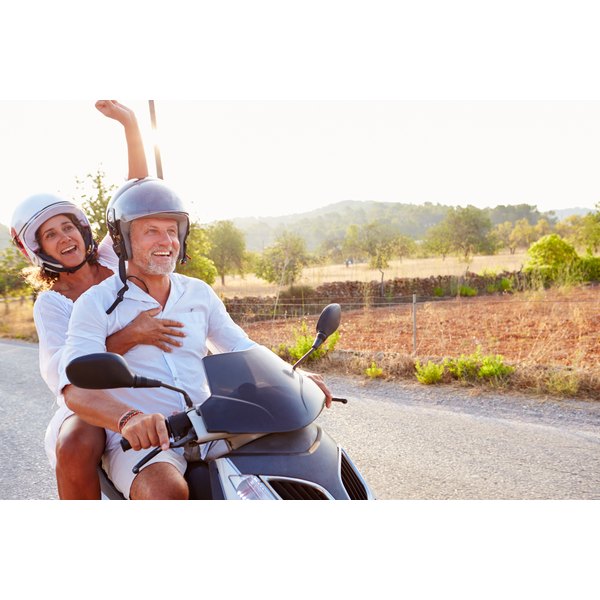 Growing older doesn't mean that you need to stop exploring unfamiliar activities and hobbies. Plenty of adventures await that will allow you to learn new skills, proving that you're never too old to try something new.
The Grand Tour
That trip around the world that you always wanted to take? Do it now. Climb the Great Wall of China, touch the pyramids of Egypt and feast in Tuscany, Italy. Many cruise lines offer longer trips to several international ports of call, and Semester at Sea -- the floating university for college students -- also offers a summer lifelong learning program for adults who want to travel and learn more about the world.
Related: Semester At Seat Lifelong Learning
Rock 'n' Roll, Literally
Take hiking to the next level by trying out a long zip line offered at many outdoor attractions. Indoor rock climbing gyms and social groups also offer classes and trips geared to seniors. Once you've learned the basics, grab some friends and gear and attack a nearby mountain.
Blast Off
Those childhood dreams of being an astronaut and landing on Mars shouldn't be dashed just yet. Space Camp in Huntsville, Alabama, offers an Adult Space Academy for those who want to train for an interactive simulated space mission -- including trying out a 1/6th-gravity chair.
Related: Space Camp Adult Programs
Help Others
From helping out at your local food bank to volunteering abroad, work to improve your community and the world. The Peace Corps, which has no age limit, says that it has seen the number of volunteers who are more than 50 years old increase significantly in the last few years. If that commitment seems too daunting, a number of private organizations offer short-term volunteer trips abroad.
Related: Seniors in the Peace Corps
Cut a Rug
You don't have to be in perfect shape to salsa, swing, tap, rumba and tango. Sign up for adult classes at your local dance studio or community center, and show off some moves within a few weeks. These classes are also great to prepare for any celebration you plan to attend such as a wedding or bat mitzvah.
Taste Bud Exploration
If you're willing to try anything once, don't be afraid to taste different and unusual types of foods. Traveling abroad presents a great opportunity to try new cuisines such as scorpion on a stick or intestine soup, but dare to cook up some unusual delicacies right in your own kitchen with the help of online recipe boards and other information from sites such as Food Tourist.
Related: Foodtourist.com
Go Off the Beaten Path
Head to the hills, where anyone can learn to control an all-terrain vehicle -- just remember to practice save-driving techniques and wear a helmet and body armor. For those seeking a less motorized adventure, consider the joy of Geocaching, a real-life treasure hunt using a GPS-navigation device.
Related: Geocaching.com
Feed Your Soul
Free time to yourself doesn't always mean you are free from the voices in your head. Meditation, yoga, and other forms of spiritual retreat are great ways to improve your emotional state and find inner peace that can lead to tranquility and inspiration.
Related: 23 Best Coastal Yoga Retreats by Coastal Living Magazine