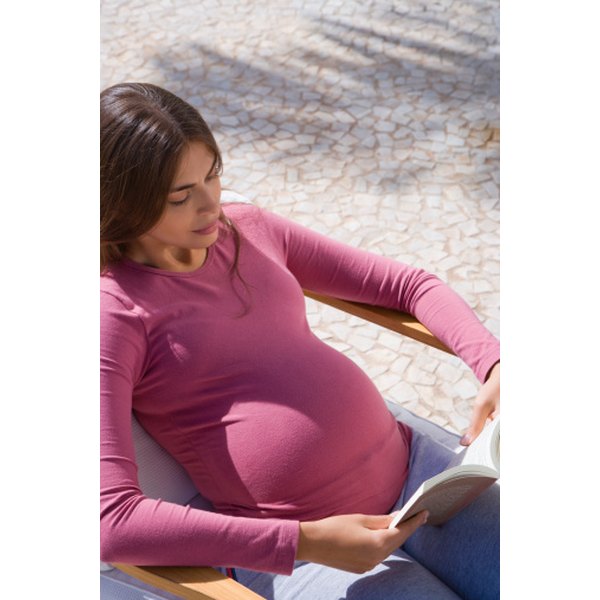 Although pregnancy is a natural part of life, many women have questions and concerns about what they are going through. There are numerous books written by moms, medical professionals and pregnancy experts to choose from. Just as you may be given unsolicited advice about what to expect during pregnancy and childbirth, you may be given lists of recommended books. Here are 10 pregnancy books at the top of many recommend reading lists for pregnant women.
What to Expect
Author Heidi Eisenberg Murkoff, wrote "What to Expect When You're Expecting" to provide pregnant women with a detailed guide on the changes the body undergoes during the 40 weeks of pregnancy. Paired with prenatal visits with your health care provider, this text helps readers understand the minor and major details of things like morning sickness and pre-labor pains.
Another great reading selection written in a conversational tone, "The Girlfriends' Guide to Pregnancy: Or Everything Your Doctor Won't Tell You," by Vicki Lovine. This text gives women an insightful look at the less-than-pretty effects of pregnancy. Women will find comfort in realizing her bodily changes are completely normal and it is OK to talk about them. Similar to this guide, is Jenny McCarthy's "Belly Laughs," a book meant to expose the things women are afraid to talk about during their pregnancy, such as hemorrhoids and bowel movements during delivery. Another top-rated choice is "Pregnancy: The Ultimate Week-by-Week Pregnancy Guide," by Laura Riley M.D.
Journaling
Special pregnancy journals, like "The Pregnancy Journal; a Day-to-Day Guide to a Healthy and Happy Pregnancy," allow mothers to document the experience from conception to birth. Each day she is provided a snippet of what is happening to her body and to her unborn baby.
Nutritional Guides
The idea that an expectant woman should eat for two has been the cause of much debate. While an increase in calories is vital to a healthy baby and mother, gaining too much weight can have negative consequences. Books like "What to Eat When You're Expecting," by Arlene Eisenberg, provides mothers with a comprehensive guide to pregnancy nutrition. It explains the difference between eating for two and eating for mom and baby.
Preparing for Labor
"The Birth Book" by William Sears, M.D., and Martha Sears, R.N., discusses the many possible methods of delivering a child, including a cesarean section, natural labor and medically induced delivery. Anxiety about what to expect can be soothed by preparation and understanding. Depending on a woman's birthing preferences, there are several text references for studying helpful labor methods. Another top-rated book on birthing and labor is "Gentle Birth Choices," by Barbara Harper and Suzanne Arms.
Nesting
One of the urges women have during pregnancy is to "nest" or prepare extensively for the arrival of the baby. This includes purchasing baby gear. "Baby Bargains" by Denise and Alan Fields has been a source of advice for mothers for years. It was once on Oprah's list of recommendations. It offers a comprehensive explanation of all the baby gear on the market and whether the items are useful, frivolous or unnecessary.
Fathering
Armin A. Brott provided a man's view of preparing for fatherhood in the book "The Expectant Father: Facts, Tips and Advice for Dads-to-Be." While a mother is preparing for the new baby, a father can learn a few things too with a text created from his point of view.