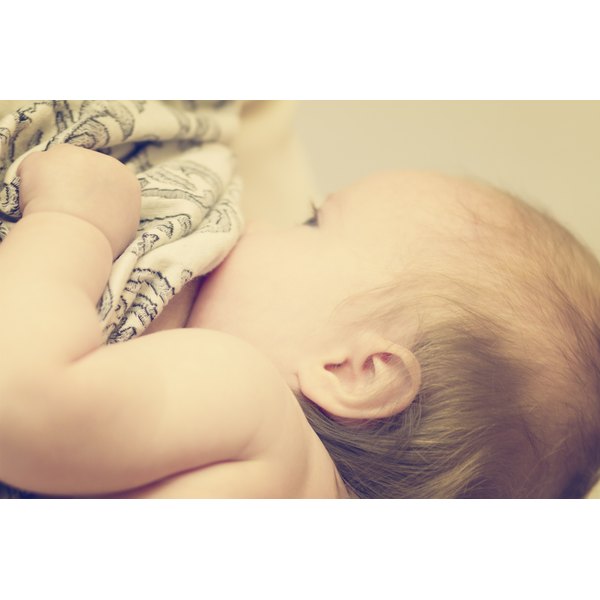 Building up a freezer stash of breast milk ensures you have enough milk to feed your baby if you are unable to breast-feed for a short time. If you are going back to work, it's vital to have extra milk on hand, but you may also need a freezer stash if you are sick and unable to breast-feed or if you have to leave your baby with a sitter for a short time. Proper freezing keeps the milk safe and helps it retain its nutritional value for your growing child.
When to Pump
Milk is usually produced at its heaviest in the mornings, since many babies go for their longest period without a feeding during the night. Pumping from one breast for storage while feeding the child at the other allows you to begin building up a stash of extra breast milk. Pump and store the milk from any missed feedings to further add to the stash. Pumping for a short time after each feeding also helps keep your milk production at its maximum while providing extra for freezing. Keep this milk in the refrigerator until you pump enough for freezing.
Sterilizing Containers
Storing breast milk in sterilized bottles or jars keeps the milk safe and pathogen-free. Sterilize glass containers by boiling them in water for 10 minutes. Air-dry the bottles completely before filling and storing them. Plastic bottles and storage containers may melt if boiled, but these are sufficiently sterilized after being washed in a standard dishwasher cycle. Lids also require sterilization, either from boiling or the dishwasher.
Freezing and Labeling
Freeze breast milk in 3-ounce servings so you can thaw only what is necessary for a single feeding. If you do not pump 3 ounces worth of milk, you can store the milk in the refrigerator until you have pumped enough later, as long as you freeze the milk within 24 hours. Label all containers with the date pumped and frozen, and always use the oldest milk first. Store the milk for up to three months in a refrigerator freezer or for up to six months in a chest freezer. The freezer temperature should be at or near 0 degrees Fahrenheit.
Using Frozen Breast Milk
Thaw breast milk quickly by submerging the container in a bowl of warm tap water. Do not use boiling water or the microwave to thaw the milk. If you are able to plan your milk usage in advance, thaw the milk in the refrigerator overnight. Shake thawed milk well so the fat is evenly distributed in the liquid prior to feeding. If you do not use thawed milk immediately, place it in the refrigerator, but don't attempt to refreeze it. You can store unused portions in the original container in the refrigerator for 24 hours, but discard leftover milk in the feeding bottle.