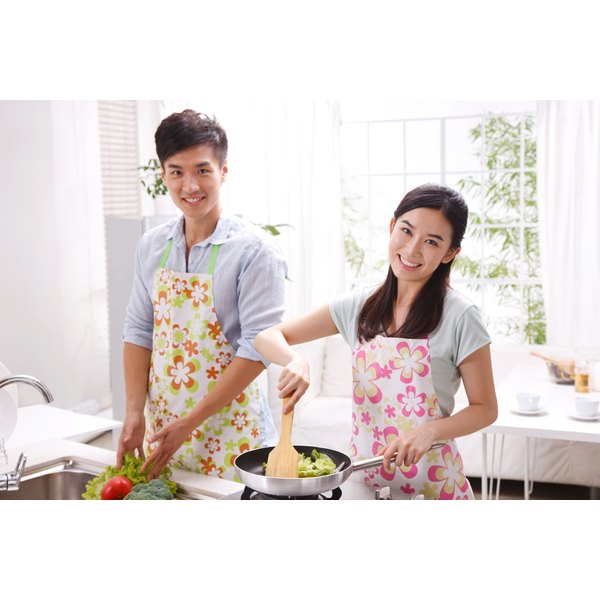 Savella is the name-brand form of the generic drug milnacipran, which is used to treat fibromyalgia. This pill is taken twice per day unless prescribed in an alternate dosage schedule. It increases the amount of serotonin and norepinephrine, neurotransmitters in the brain that help stop the movement of pain signals. If you are overweight, it is possible to lose weight while taking this medication.
Eating Plan
Following a healthy diet plan is a vital component of a fibromyalgia management plan. A healthy diet also gives your body the nutrients it needs to function properly, which might decrease the symptoms of fibromyalgia. This same diet plan can also help you lose weight while you are taking Savella. Eat a variety of fruits and vegetables daily and be sure that these include different-colored foods. Lean meats, whole grains and low-fat dairy products are also essential. If taking Savella makes you nauseous, plan your meals so that you eat just before taking your medicine.
Exercise
The symptoms of fibromyalgia and some of the side effects of Savella can make exercising uncomfortable and difficult. To lose weight and keep your fibromyalgia symptoms to a minimum, you have to participate in some sort of exercise regimen to help you burn the calories you eat and drink. If you are in the midst of a fibromyalgia flare-up, swimming or water aerobics might be the best exercises for you because the water helps support your body and takes the pressure off of your tender points. Walking, cycling and low-impact aerobics are ideal if you aren't in the midst of a flare-up.
Caution
If you choose to eat diet foods, you have to check the ingredients. Aspartame, or NutraSweet, is a common ingredient in many diet foods, and the Podell Medical Practice says aspartame can actually increase your body's response to pain. Avoiding MSG, which is common in many convenience and Asian foods, is also a vital component of your fibromyalgia management and weight loss plan, as MSG might also make your pain worse.
Consideration
While weight loss is one side effect of this medication, some of the other side effects -- such as constipation, lack of energy, extreme tiredness and flu-like symptoms --might make losing weight while on Savella difficult. When you add in the common symptoms of fibromyalgia, such as fatigue, depression, headaches, pain and disturbed sleep, staying on your weight loss plan might prove difficult, but it isn't impossible. Even if Savella or its side effects are stopping you from losing weight, don't stop taking the medicine without your doctor's approval. To avoid withdrawal symptoms, your doctor has to develop a plan to wean you off the medication.
Tips
If symptoms of fibromyalgia or side effects from Savella are interfering with your ability to lose weight, ask your doctor for suggestions to help you cope with the symptoms and side effects. If you are nauseous, constipated or have diarrhea, your doctor might be able to prescribe medications to help you overcome those problems. Medications are also available to help you if you suffer from many other problems, such as insomnia or headaches.