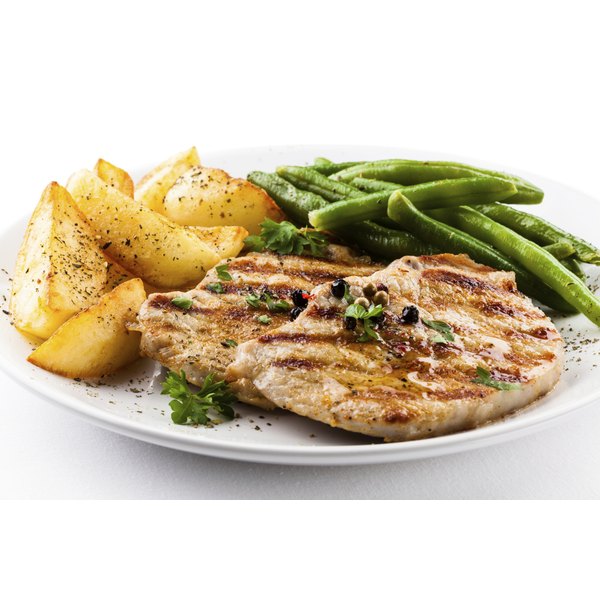 Hunger pangs are a major obstacle to losing weight. Your body is not used to your decreased caloric intake and may not have fully adapted to your healthy diet. Furthermore, if your weight-loss plans include exercise, your body may be craving more food and calories. Use certain techniques to help fight hunger pangs when losing weight.
Increase the amount of protein you consume in your diet. According to HealthScout, studies suggest that eating more protein can fight hunger pangs. Specifically, eating more protein in your diet increases a hunger-fighting hormone. Therefore, you should choose to follow the recommendations of the United States Department of Agriculture to eat one-fourth of a plate of a lean meat, such as fish or poultry. If you do not eat meat, increase your consumption of legumes such as black beans, red beans or peas.

Drink more water to suppress your appetite, according to Mike Adams of NaturalNews.com. He states that drinking one 8-ounce glass of water as soon as you feel hungry will decrease your hunger pangs within 10 minutes. Therefore, you should keep a bottle of water with you during the day to drink if you begin to feel hungry. If you do not like to drink water, try a calorie-free sports drink or tea.

Eat more fiber to fight hunger pangs. According to the University of California, increasing your fiber consumption can boost feelings of fullness and increase levels of a certain hormone associated with feeling full. To best achieve this goal, eat one-half a plate of fruits and vegetables with each meal, according to the USDA. Further, choose to snack on fruits or vegetables throughout the day to help curb your appetite.

Tip

Avoid abrupt changes in your caloric intake or dietary habits to prevent the sudden onset of hunger pangs.