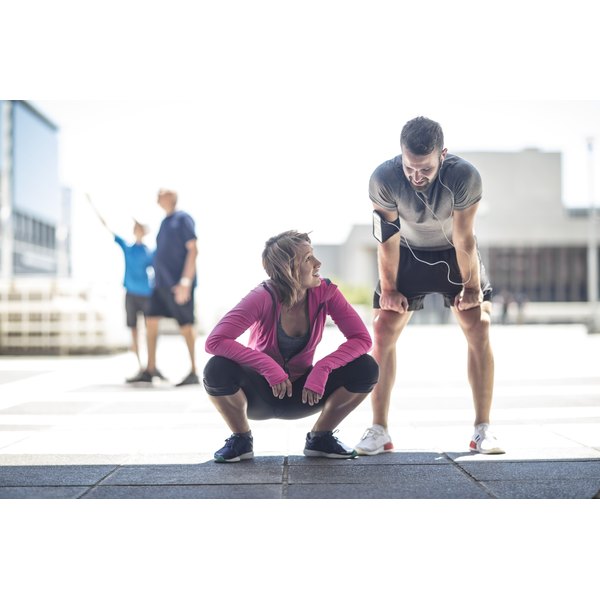 Working out is healthy for your body and it's like free therapy for your mind. We all love that amazing feeling after dominating a workout (thank you, endorphins!).
Yet oftentimes, our minds make excuses for us to not go to that class or to not go on that run. As a running coach and Aaptiv trainer, I've heard all the excuses in the book. So here are five tips to help you spend less time making excuses, and more time reaching your goals:
1. Apply your office work ethic to exercise.
Think about it like this: You look at projects at work as a "I must get this done, because I don't have a choice" type of situation. Because, first of all, you don't want to get fired, and secondly, you have to pull your own weight because your company and team relies on you.
So, if you fight for your job like that, why not channel that same "no excuses" work ethic toward your workouts? If you can focus on not letting others down in your day-to-day life, make a commitment to not let yourself down when it comes to your gym life.
Remember that you are the best project you'll ever work on and think about how much stronger you're going to be if you channel a consistent work ethic across everything you do.
2. Sign up for a race or a class.
If your game falls a bit short when fighting the mental battle against your excuses, there's no better way to hold yourself accountable than to pay for something. Whether it's a new workout class or a fun 5k, no one likes to waste money — so get yourself signed up for something.
In doing this, you stay goal-oriented, and instead of randomizing your workouts, you now have goals. And who doesn't like reaching a goal?
For example, this year, I was debating on doing another marathon again, and I thought, "Let me just sign up for the darn thing, that way I know I'll have to do it."
And now, on the days when I don't feel like running, I remember I not only spent $200 on the race, but I also remember what it was like to cross the finish line in my last race. The more disciplined you get with holding yourself accountable, the less disciplined you have to be.
3. Find a louder voice.
If you want to be stronger than your excuses, you have to win the battle with the little voice in your head. The best way to get rid of this voice? Listen to a louder voice. Find a workout buddy who holds you accountable, a music playlist you can't get enough of or a trainer or coach who's with you every step of the way.
I get hundreds of messages a day from Aaptiv members, who train and exercise with my on-demand running classes. The most common thing I'm thanked for is giving them a motivating voice in their head — allowing no room for their own voice with excuses.
4. Set your alarm (and DON'T hit snooze).
Work out first thing in the morning so you can get up, get it done, and then be done.
It's brutal. I get it. Sometimes, when my alarm goes off, my first thought is "Who did this?!" but the less time you have to make excuses, the more likely your workout will actually happen. And it's easier to work out when your head isn't full of the problems from your day.
5. Do it once… then do it again.
Try this next time an excuse to not work out pop up: Do something really hard, just once. Run just a little bit further or faster than you've ever ran, beat some sort of personal record or even try a challenging work out class that you never thought you would do.
We challenge ourselves because of the overwhelming feeling of power and achievement as a result. And all you need to do is experience accomplishing a really hard run once for your mind to rewire and raise your baseline for the next time.
About the Author
As an Aaptiv master trainer, Meg Takacs provides thorough technical detail in all of her audio-guided workouts — from running to strength training. She is an accomplished competitive runner with certifications in ISSA fitness training, CrossFit coach training, and RRCA running coach training. Her precision and drive to help Aaptiv members achieve their fitness goals makes her workouts perfect for anyone looking to level up and reach new heights.