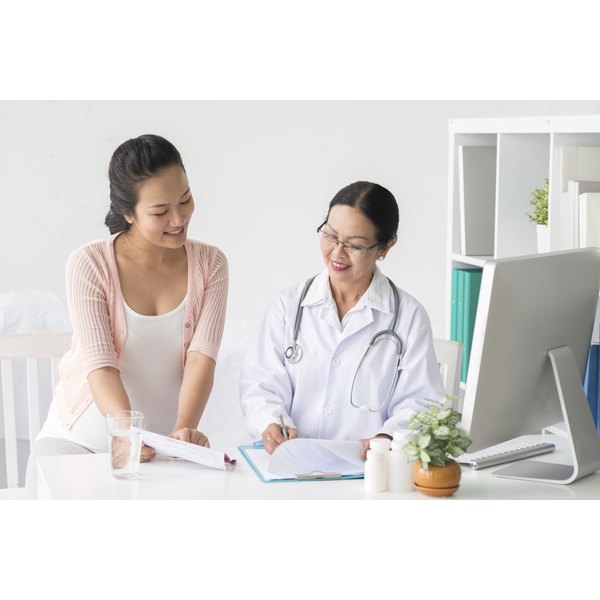 If you're thinking of becoming pregnant and you want to ensure that you are consuming enough of the right vitamins, you might be weighing the cost of prescription prenatal vitamins versus over-the-counter prenatal vitamins, which are less expensive. Over-the-counter prenatal vitamins usually contain the same nutrients as prescription vitamins, although they may have lower levels of iron and folate. With all the options, it can be difficult to decide which of these vitamins is best for you. Knowing what to look for can help you choose one of the best available OTC prenatal vitamins.
Enough of the Essential Nutrients
Look for a prenatal vitamin that contains 400 to 800 micrograms of folic acid, 30 milligrams of iron, 250 milligrams of calcium, at least 400 milligrams of magnesium, 400 to 800 international units of vitamin D, 2 milligrams of vitamin B-6, 50 milligrams of vitamin C and 30 milligrams of choline. Folic acid is particularly important, as it helps prevent neural tube birth defects.
But Not Too Much
Taking too much of certain vitamins might cause harm to you or your baby. Choose a prenatal vitamin that doesn't contain more than the recommended 2,565 International Units of vitamin A in the form of retinol, as higher amounts can cause birth defects. If the vitamin A in your vitamin is mainly in the form of beta-carotene instead of retinol, you don't need to worry about this, because your body only converts beta-carotene to vitamin A when you need it.
USP-Verified and Low in Contaminants
Your vitamin won't help you if it doesn't dissolve, or if it doesn't contain the nutrients listed on the label. Look for the USP, which is the United States Pharmacopeial symbol on the label. This organization tests supplements to make sure they dissolve properly, that they contain the ingredients on the label in the right amounts and that they don't contain harmful levels of certain contaminants. The U.S. Food and Drug Administration found that some over-the-counter prenatal vitamins were contaminated with lead, according to a report published on the FDA website in August 2008. In some cases, the levels of contamination were much higher than in others, with the highest potential exposure per day estimated at 8.97 micrograms, which is still below the provisional total tolerable intake levels.
Tolerable for You
Some prenatal vitamins are easier to tolerate than others. If you can't swallow a particular vitamin or it causes you to be nauseous or constipated, speak to your doctor about switching to another vitamin. Large vitamins were the most difficult for women suffering from pregnancy nausea, although those with high iron levels also caused some problems, according to a study published in "Canadian Family Physician" in November 2006. Coated vitamins, smaller vitamins and vitamins that have less iron may all be easier to tolerate. Smaller vitamins, however, often either require you to take multiple pills each day or they don't contain calcium, so you would need to get plenty of calcium from food. Chewable versions are another option, but they don't necessarily taste very good.