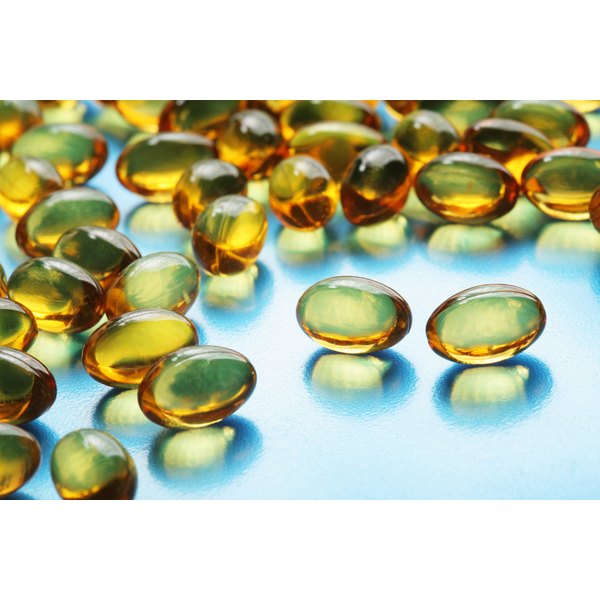 Most of us know from experience that substances we take into the body can influence brain function. In fact, most people consume one of of these substances every morning -- caffeine, a mild stimulant that can improve alertness and performance. Many other foods and supplements can impact the brain. Use supplements under the supervision of a qualified health care professional.
Omega-3 Fatty Acids
Omega-3 fatty acids are naturally present in the brain and are important for brain functioning and normal neurological development. A 2007 review in the journal "Lipids and Health" reports that people with low levels of omega-3 fatty acids in their diets or in their bloodstreams are more likely to suffer from depression, anxiety and attention deficit hyperactivity disorder. The body cannot produce its own omega-3 fatty acids, so they must be obtained from food. Fatty fish is the most abundant dietary source, but fish oil supplements are a good choice for people who do not eat fish regularly. Consult a qualified health care professional before using fish oil to treat any disorder.
Herbal Supplements
A number of herbal supplements are used to boost cognitive functioning, memory and mood. Gingko biloba, derived from the world's oldest tree species, may be useful in treating the cognitive decline associated with aging. Ashwagandha is a traditional Ayurvedic supplement that may help boost resistance to stress and relieve anxiety. A 2010 study from the Brain Performance and Nutrition Research Center at Northumbria University found that panax ginseng helped improve working memory performance and subjective ratings of calmness. The herb St. John's wort is often prescribed in Europe as an antidepressant. More research is necessary before these herbs can be widely recommended. Always consult your physician before taking herbal supplements.
Vitamins
Deficiencies in vitamins can sometimes cause less than optimal brain functioning. Vitamins B-6, B-12 and B-9 are essential to the manufacture of neurotransmitters, chemicals that help regulate mood and motivation. Vitamins A, C and E are antioxidants that can help protect brain cells from the damaging effects of free radicals formed by pollutants, alcohol, cigarette smoke and metabolic processes. A healthy varied diet typically contains all the vitamins you need, but those who do not eat right may benefit from vitamin supplements. Use them only according to package directions.
Differences Between Drugs and Supplements
From anxiety to dementia, many problems originating in the brain can be affected by both supplements and pharmaceutical drugs. Supplements tend to have a gentler and slower mode of action because they use an indirect route to the blood stream. Their effects are usually less dramatic and intense than pharmaceutical drugs. For that reason, supplements are most appropriate for healthy people without serious psychological and cognitive symptoms that need to be immediately addressed. Do not substitute supplements for advice and treatment from a qualified medical professional.