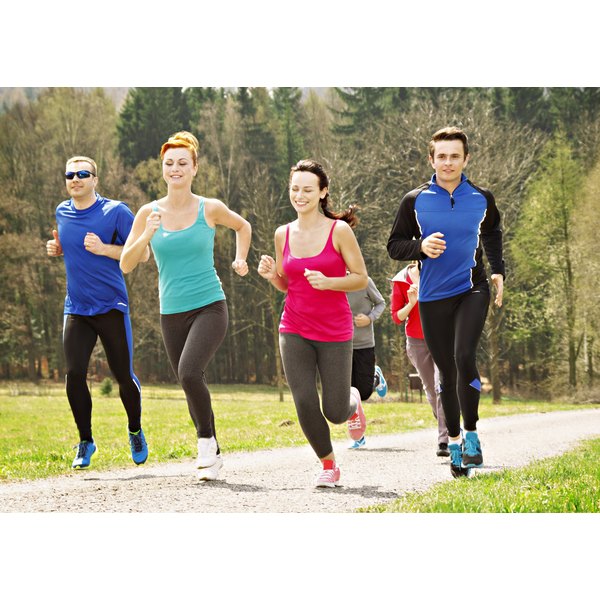 It is no secret that an active lifestyle and proper nutrition can help you lead a longer, healthier and more fulfilling life. A well-balanced diet of nutritious foods combined with regular physical activity can decrease your risk of developing certain chronic illnesses and can prevent many diseases.
Hypertension
Maintaining a healthy weight through proper diet and regular physical activity can help lower blood pressure. In a study of 83,882 women conducted by Brigham and Women's Hospital in Boston, Massachusetts, it was found that women with a body mass index greater than 25 had a significantly higher instance of developing hypertension than those women with a body mass index lower than or equal to 25.
Heart Health
Exercise can strengthen the heart as well as other muscles of the body. A diet low in saturated fats also helps to lessen the likelihood of developing heart disorders and heart disease. To avoid heart failure and other heart conditions such as cardiovascular disease, refrain from smoking, participate in regular physical activity, and maintain a healthy body weight.
Diabetes
Diets high in fat and cholesterol take their toll on people at risk for diabetes. To lessen your chances of developing type 2 diabetes, consume at least five servings of fruits and vegetables a day, eat fewer sweets, limit foods high in saturated fats and cholesterol, and participate in regular physical activity. Aerobic activity heightens sensitivity to insulin levels and helps to maintain a healthy body weight.
Osteoporosis
Weak, brittle bones can break and fracture more easily. Many exercises such as yoga and aerobics can help improve balance and coordination to prevent falls. Weight-bearing exercises can strengthen bones that become weaker at a staggering rate after menopause. If you have already developed osteoporosis, consult your physician to ensure that bone density requirements are met before beginning an exercise regimen.
Additional Benefits
Regular exercise not only prevents many health conditions and chronic illnesses, but also improves mood, helps to fight depression and can improve sleep. Consult your physician or other health care provider for tips and advice on beginning a beneficial, life-long journey to a healthier, active lifestyle.