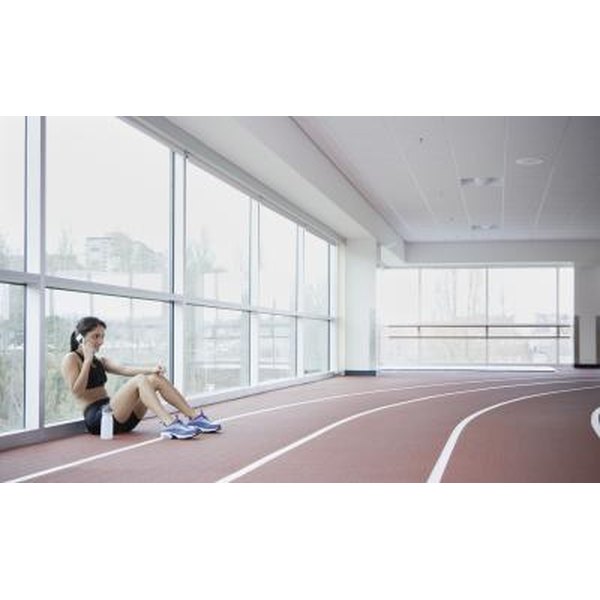 If you are looking to lose weight, using a tracking tool may be just what you need to stay on the right path. From smartphone applications to computer programs, these tools track the many variables to help you achieve your diet and exercise goals. The most comprehensive diet and exercise trackers are designed to document your calories consumed and calories burned. Trackers have numerous attributes that create an easy-to-use platform that makes inputting information quick, for instance recalling past meals and frequently recorded foods and exercises.
Calories under Surveillance
A food and nutrient log is a standard feature of a diet and exercise tracker. Tese logs allow you to record the foods and beverages you consume on a daily basis. Recording what you eat and drink can help you to become conscious of your eating habits and see if you're inadvertently eating too many calories. Digital trackers generally have a library of commonly consumed foods, beverages and their nutritional information. Some trackers allow you to search the nutritional information of restaurant foods to help you pick the best options.
Monitor the Fitness Fun
The Centers for Disease Control and Prevention recommends that adults get at least 150 minutes per week of moderate aerobic activity. An exercise log tracks activities, duration and calories burned, and then allows you to view an outline of your exercise endeavors and improvements.
Set Your Weight-Loss Goals
Setting practical and realistic weight-loss goals will help you stay motivated as you move toward a healthy way of life. The ability to set goals is a fundamental requirement for any diet and exercise tracking tool. The best tracking tool permits you to establish a goal for your weight loss, fitness, nutrition and even water consumption and then assists you in designing a timeline for reaching those goals.
Watch Your Progress Soar
Summary reports are a motivational tool to assist you in achieving weight and health goals. These reports can be classified as program summary, weekly report or daily report that show calories consumed, exercise calories burned, net calories and weight. These reports are in the form of personalized charts and graphs that can be viewed, printed, emailed and displayed on social media sites.
Obtaining the Tracker
Online trackers are available online and in application stores for smartphones, tablets and computers. Printable trackers are also available for download online or for purchase at your local bookstore.