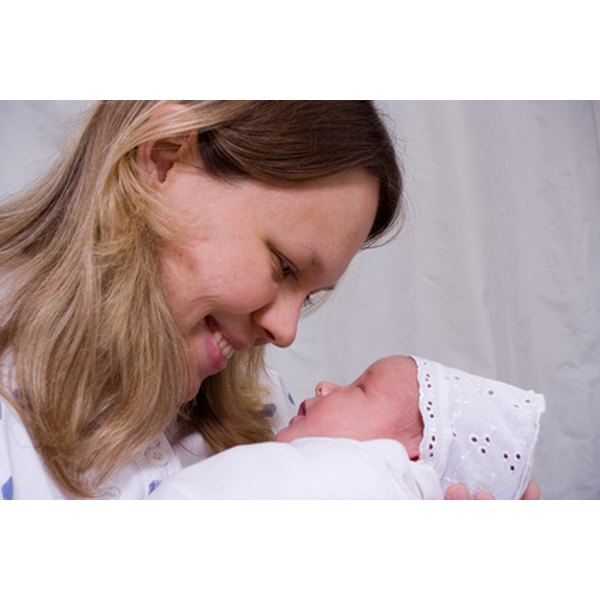 Having a baby will change your life in many ways. Eating a healthy and well-balanced diet can give you the energy you need to care for your little one, and it also can help you lose any pregnancy weight still sticking around. You are likely tired and lacking energy, but finding the time to prepare nutritious meals will benefit you and your baby, particularly if you are breastfeeding. Having a few of these choices on hand to reach for when hunger strikes, makes planning a nutritious mean a lot easier.
Fruit Smoothie
A fruit smoothie can be customized according to your favorite ingredients and can be eaten while you engage in tasks related to the care of your newborn baby. Fruit is nutritious and will supply you with energy to go about your day taking care of your baby. Choose your favorite fresh or frozen fruits and combine them in the blender with plain yogurt and 100 percent fruit juice. Puree the ingredients and you will have a small meal or snack to consume as you rock your baby or feed her.
Iron Fortified Breakfast Cereal
Breakfast cereal is a quick and convenient food that you can prepare and eat in just a few minutes while youcare for your little one. Choose a breakfast cereal that is fortified with iron. Your body loses a great deal of blood volume following delivery, which means that you have less iron, a nutrient that is crucial for energy and stamina. Eat a bowl of cereal for breakfast, or at any time of the day, to help you get enough iron.
Nuts
Nuts are a convenient food that fill you up with just a handful or so of food. Eating nuts supplies your post-pregnancy body with protein, which you need to sustain energy and care for a newborn. Protein gives you the stamina you need to begin exercising in the weeks following delivery. Add a handful of walnuts or cashews as a snack or include them in a salad. Walnuts can be combined with herbs and olive oil in a food processor to make a healthy dip for fresh vegetables or baked tortilla chips.
Soup
Soup is a versatile food that can be prepared using a variety of nutritious ingredients. Vegetable soup provides many different vitamins and minerals as well as fiber to help your digestive system return to normal. Beans are another fiber-rich food that enhance the flavor of your soup. Garlic, onions and herbs can add flavor. Start with low-sodium chicken or vegetable stock and then add your favorite foods. Soup can be prepared quickly and can be eaten while your baby naps to give you several hours of energy for the rest of the day.