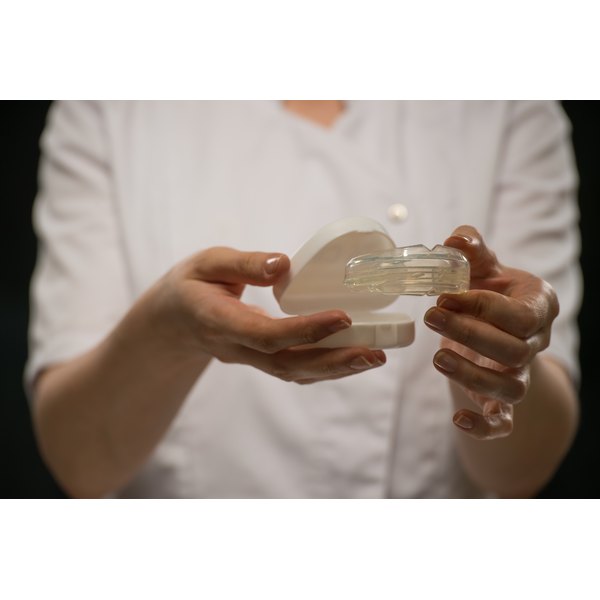 Sports mouth guards play an important role in dental protection. Blows to the mouth and head -- some of which may lead to concussion -- are common in high-impact sports such as football, lacrosse and hockey, which mandate mouth guard wear. However, wearing a mouth guard that is too bulky or cumbersome can dissuade use; a thin, compact guard often encourages regular wear. Without protection, tooth, lip, tongue and mouth injury risk increases 1.6 to 1.9 times, states the American Dental Association.
Mouth Guard Basics
Three common mouth guard types include stock, boil-and-bite and custom. Stock guards cost anywhere from $3 to $25 and are unmolded plastic trays in sizes small, medium and large -- thus they may feel bulky, square and misaligned. Boil-and-bite guards, approximately twice the cost, improve matters by molding the guard via boiling, which softens the plastic and allows it to form-fit your teeth. This also thins the material, reducing bulk and improving space issues. Unfortunately, your teeth may pierce through the plastic during or after molding. The third option, custom guards, can cost up to $300 but are superior in quality and fit. Made from plaster casts of your teeth, these guards are strong, thin and minimally obstructive.
Custom Made Is Most Precise
Customized guards accommodate exact tooth dimensions and surface irregularities while targeting optimal thickness of 2 to 3 millimeters, according to Sports Dentistry. Illustrating a boil-and-bite guard's unsafe thinness, this site details how custom guards' exacting parameters means even thin guards remain superior protective for all teeth. Dental professionals are able to adjust thickness to suit each athlete's bite, thinning the material where necessary or desired.
Boil-and-Bite Better Than Nothing
Despite their bad rap, a boil-and-bite guard can be of use when formed correctly. In fact, these $15 to $40 over-the-counter kits give you the option to self-fit a device that, with practice, can be rendered thin, well-shaped and hardly cumbersome. Care must be exercised, however, during the molding process, to achieve proper tray alignment and to avoid chomping down so hard that your teeth completely flatten or tear the plastic.
Near-invisible Mouth Guard For Football
Gerald Maher, a Massachusetts dentist, developed for football players a near-invisible mouthpiece, a dental retainer that reduces the risk of a player's teeth and jaws getting forced upwards and into the brain. This mouthpiece is made from two small, acrylic pieces that sit over the molars and are joined by strips of stainless steel, according to ESPN Sports. Thus, players can easily breathe and talk. Specifically, the retainer aligns the jaw so that, should a player's chin, mouth or cheek get hit, the dime-sized piece of cartilage between jaw and brain absorbs the shock and protects the brain. However, since the front teeth are not covered, they may break from frontal impact. The NFL has not sanctioned this retainer, but it represents dentists' and sports professionals' efforts to improve mouth guard fit and utilization.