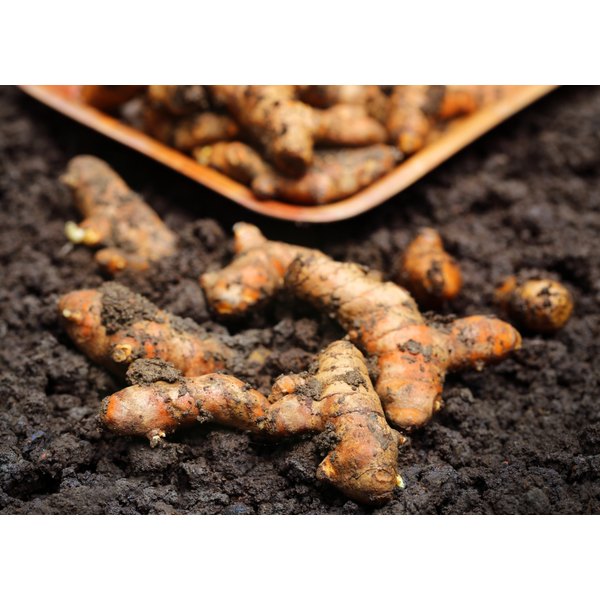 Turmeric is a perennial herb belonging to the ginger family. Curcumin, the yellow pigment from turmeric, is used for medicinal purposes in Chinese and Ayurvedic medicine for conditions, such as digestive and liver conditions, menstrual difficulties, skin diseases, tooth pain, and for various types of arthritis. Research found that turmeric may decrease pain and swelling, increase joint mobility and prevent bone loss which can benefit individuals suffering from arthritis. Consult with your health care provider before you begin taking turmeric for your arthritis.
Osteoarthritis
Turmeric helps individuals suffering from osteoarthritis, acting as a painkiller, by increasing mobility in the joint and reducing stiffness. A study by Italian researchers reported on the Medical News Today website showed that a curcumin-based extract is a safe and effective supplement for osteoarthritis. After 90 days of daily use of this extract, compared to control group, subjects manifested a 58 percent decrease in joint pain, stiffness and improve functionality of the joints as measured by the Western Ontario and McMaster Universities Arthritis Index (WOMAC) score. Subjects using this supplement had the ability to reduce the use of non-steroidal anti-inflammatory drugs by 63 percent compared to individuals who followed conventional treatment alone. The anti-inflammatory properties of turmeric extract were reflected by the blood tests, patients having a 16-fold decrease of C-reactive protein, a marker of inflammation. Social and emotional aspects of the participants have also been ameliorated, with a 300 percent improvement in their Social and Emotional Index score.
Rheumatoid Arthritis
Turmeric may help to prevent diseases, such as rheumatoid arthritis and osteoporosis, according to researchers from the University of Arizona College of Medicine. A study, conducted by Janet L. Funk, M.D., and associates, was designed to test if turmeric works as an anti-arthritic supplement and, if so, its mechanism of action, according to study results published on Medical News Today. During the study, the scientists discovered that the curcuminoid extract from turmeric blocks a protein called NF-KB factor from being activated in the joint. When activated, NF-KB factor causes inflammation and destruction of joint tissue. The researchers noted that basically turmeric supplement has a similar mechanism of action anti-arthritic conventional drugs, which also target the NF-KB protein. The researchers concluded that further studies are encouraged to further understand the efficacy of turmeric, not only for arthritic patients, but also for individuals suffering from other inflammatory conditions, such as multiple sclerosis or inflammatory bowel disease.
Antioxidant
Curcumin is a also known as a powerful antioxidant. Antioxidants help the body to protect from free radicals. Exposure to radiation, environmental pollution and a diet rich in fried and processed foods increase to the formation of free radicals in the body. Free radicals cause cellular damage and impairment of the immune system which further lead to infections, degenerative diseases and cancer. Thus, antioxidants like curcumin play a key role in all forms of arthritis and may also help to prevent them.
Considerations
A qualified medical professional should be consulted when considering supplementation with turmeric, as it may interact with other herbs, supplements and conventional drugs.