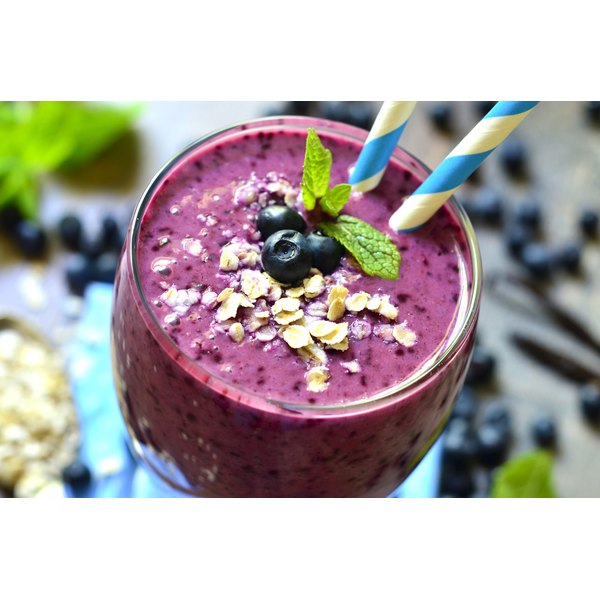 The RightSize Smoothie Diet is designed to help dieters facilitate weight loss by decreasing calories, managing hunger and controlling their appetite. Meal replacements smoothies and nutritional supplements are consumed while following the RightSize Smoothie Diet. RightSize Smoothies are formulated to be nutrient-packed and filling, and also claim to make dieting easier.
Smoothie Product Availability
According to the RightSize Smoothie website, the weight loss smoothies are available in powdered form or in ready-to-drink bottles. The powdered varieties come in 30--serving containers and include Lean Cocoa Bean, SkinniVanilli, Leano Cappucino and Slend-a-Berry. The 8-oz. ready-to-drink bottles contain two servings per bottle and are available in SkinniVanilli and Chocolate Mousse Reduce.
Smoothie Diet Instructions and Calories
The RightSize Health and Nutrition website states that the smoothie diet consists of replacing one to two daily meals with a RightSize smoothie. Dieters are allowed to consume sensible meals and snacks for the remainder of the day. The ready-to-drink smoothies contain 150 calories per 8-oz. serving. The smoothie powder has 100 to110 calories per scoop of powder. Dieters must also add in the additional calories, if any, from the liquid the powder is mixed into. RightSize suggests using skim milk, almond milk or soy milk.
Nutrient Content
The RightSize website reports that each smoothie contains an abundance of nutritional value. The smoothies are formulated to give dieters 50 percent of the daily recommended allowance of more than 20 vitamins and minerals including vitamin A, thiamin, copper, zinc, vitamin D, selenium, vitamins B12 and B6, folic acid, vitamin C and phosphorus.. The smoothies also offer 100 percent RDA of chromium and 30 percent of calcium.
Cost
As of October 2010, a 24-pack case of ready-to-drink smoothies cost $34.90. A four-pack of ready-to-drink smoothies cost $12.80. For those who would like to sample the product before buying, there is an option of buying one smoothie for $4.00. RightSize Smoothie powdered mixes are available for $54.80 per 30-serving container. Individuals who purchase three cans of the powdered mix at once will save 50% off the third can. RightSize smoothies come with a 30-day money back guarantee for unsatisfied customers.
Considerations
According to the RightSize website, RightSize smoothies contain 50mg of caffeine, so those with medical conditions or sensitive to caffeine should consult their physician before use. Breastfeeding women are also cautioned to consult their physician before use due to the caffeine content. To avoid stomach upset, individuals who are lactose intolerant should use dairy-free products to mix the smoothies powders with.
Tips
According to MayoClinic.com, meal replacement diets can be expensive, so dieters must be prepared to fund the diet. MayoClinic.com recommends individuals wanting to lose weight choose safe, healthy weight loss programs. The program should not eliminate any food groups, have balanced nutrition, be enjoyable, require foods that can be easily purchased, should include physical activity and promote steady, moderate weight loss.