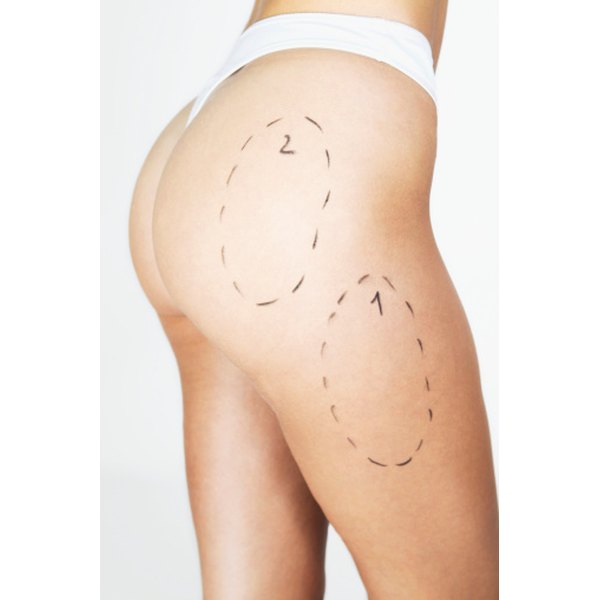 Liposuction is an invasive procedure and your recovery will depend on the amount and type of liposuction you have, as well as the area that is treated, according to the Liposuction Cosmetic Surgery Procedure website. As with any surgery, you should follow your doctor's advice on post-operative care and rehabilitation; however, it is generally important to eat well and start moving soon after surgery to help ensure long-term benefits and promote blood flow in order to reduce the risk of clots and infection.
About Liposuction
This procedure uses suction to remove fat from under the skin's surface, and can be done with either general or local anesthetic, reports Liposuction.com. Local anesthesia is generally considered the better option because heavy sedation through general anesthetic can be dangerous, takes longer to recover from and must be administered by an anaesthesiologist.
Post-operative Exercise
Take it easy for at least a couple of days immediately after surgery and avoid intense activity for up to one month, according to Lipo.com. However, depending on where the treated area is, you might be able to take a short, gentle walks soon after to encourage circulation. Resume exercise at about one-quarter of your normal intensity and duration, and gradually build up from there as your strength returns and the discomfort decreases.
Post-operative Diet
While adults have a fixed number of fat cells and liposuction permanently removes some of these, the remaining fat cells can grow bigger and still cause weight gain, reports the Smartliposuction website. For this reason, liposuction should be used as one part of the process to achieve your desired body shape rather than as a way to instantly lose weight, reports Lipo.com. You are more likely to maintain the benefits of this surgery in the long term if you follow a healthful, balanced diet after you undergo the procedure. Protein is particularly important for the healing process, as is lowering your salt intake to reduce swelling, according to Smartplasticsurgery.com.
Alcohol
To drink alcohol for at least 48 hours before and after surgery, according to the Liposuction Cosmetic Surgery Procedure website. Fluid retention won't mix with any post-operative medication you are on and generally slows the healing process. It is strongly advised that you give up smoking for a reasonable period before and after surgery because it affects the blood vessels and can cause complications that delay your recovery.
Precautions
It is normal for the treated area to feel tender, uncomfortable and even mildly painful for several days after liposuction, according to Lipo.com. The treated area will also be red and raised immediately after surgery. However, prolonged swelling and redness -- especially combined with pain -- could be a sign of infection. If any of these symptoms are extreme or persist for a long period after surgery, contact your doctor.