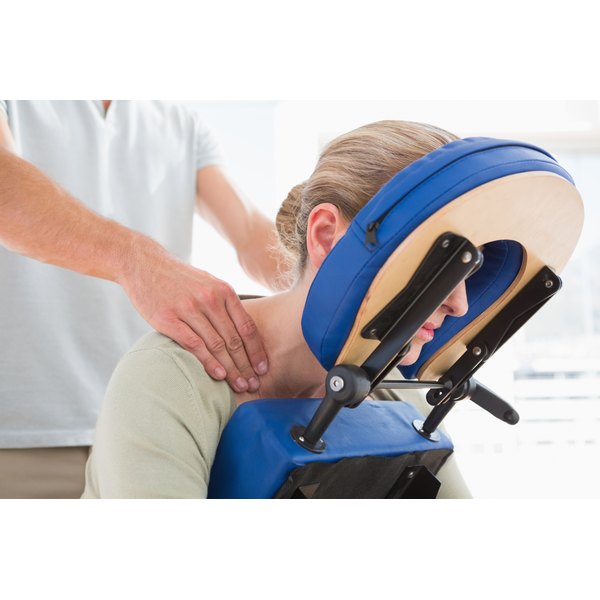 Massage therapy can easily be enjoyed by pregnant women. One of the methods of massage that's popular with pregnant women is chair massage, in which the client sits in an ergonomically designed chair with her chest and stomach on a padded rest and her face in a padded face rest. Chair massage is usually practiced without oil or lotion.
Significance
A pregnant woman might choose a chair massage for several reasons. Specially designed massage tables are available for pregnant women, as well as different cushion systems to support a pregnant woman who is lying down. However, not all massage therapists have this equipment because it can be expensive and might not be used much, even if the therapist is trained in chair massage. You might also find it uncomfortable to climb up on or lay on a massage table, particularly late in pregnancy. Chair massage can be more comfortable for you and can be easier to get on and off than a table. According to the Florida State Massage Therapy Association, the client generally remains fully dressed during a chair massage, which some pregnant women may also be more comfortable with.
Time Frame
Although chair massage can be performed at any stage of your pregnancy, it is most often done in the second and third trimesters. Many massage therapists won't massage a woman during the first three months of pregnancy because of the slightly higher risk of miscarriage.
Benefits
Getting a chair massage during pregnancy can have many benefits, including reduced anxiety and depression, relief of muscular pain and improved circulation, explains American Pregnancy. Massage can also help pregnant women suffering from insomnia.
Finding a Therapist
To find a massage therapist who specializes in chair massage and is certified to work on pregnant women, call a local massage school or clinic or check with area spas to see whether anyone on staff fits the bill. You can also search online by typing "pregnancy massage" followed by your town and state into a search engine.
Warning
When choosing a therapist, about the therapist's credentials and experience. You need someone who has plenty of experience with chair massage and is certified to work with pregnant women.